Singapore's Changi airport will reopen Terminal 2 in phases from 29 May, as it anticipates a strong traffic boost during the June peak travel period.
In the first phase of its "progressive reopening", Terminal 2 will host peak-hour arrivals for airlines operating from Terminal 3. Operator Changi Airport Group (CAG) also expects to shift a "small number" of flights departing from Terminal 3 to the newly-reopened terminal.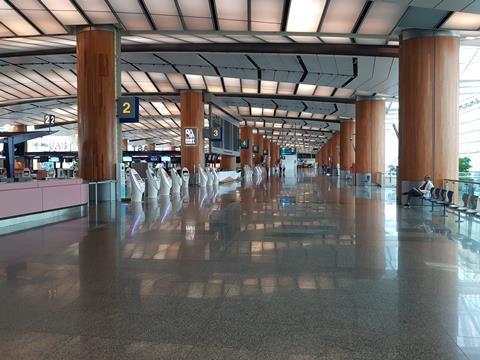 Terminal 2 was shut in May 2020, at the height of the coronavirus crisis which decimated travel demand around the world. The closure, originally to have lasted 18 months, was to allow for planned upgrades for T2 to be sped up.
When upgrading works are completed, the terminal will be able to handle up to 28 million passengers a year, 5 million passengers higher than its previous operating capacity.
CAG in its latest statement says the terminal will reopen in phases across two years.
Adds CAG executive vice president of airport management Tan Lye Teck: "CAG is encouraged to see the strong pickup in travel demand and has worked closely with our partners to bring forward the progressive reopening of T2 ahead of the June travel peak to meet this demand. The start of flight operations at T2 will provide more capacity to support our airline partners, who are also gearing up to serve more passengers in the months ahead."
Following Singapore's decision to completely ease travel restrictions for vaccinated travellers, Changi has seen a strong rebound in passenger travel demand.
As at end-April, Changi has recovered passenger traffic to above 40% pre-pandemic levels. It has set a target to recover 50% pre-pandemic traffic by the end of the year, but is expected to hit it ahead of schedule.
Singapore also recently announced it would be restarting work on its Terminal 5 mega-project, after a two-year pause.