Singapore has announced a "cautious" easing of travel restrictions to fully-vaccinated visitors from selected countries and regions, as it gradually reopens its international borders, which had been largely shut since the start of the coronavirus pandemic.
From 8 September, the city-state will allow fully-vaccinated travellers – regardless of purpose of travel – from Germany and Brunei to enter without serving the mandatory 14-day quarantine.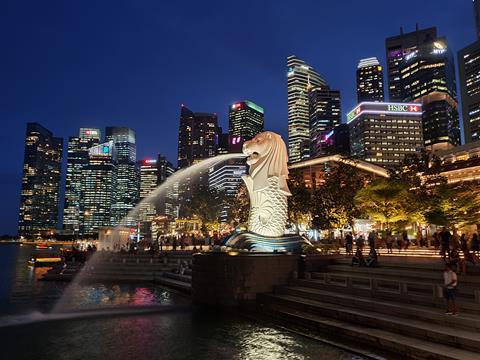 Under the "Vaccinated Travel Lane" arrangement, travellers will need to undergo a series of Covid-19 tests during their stay in Singapore, including a pre-departure and on-arrival test, as well as tests on the third and seventh day of arriving in Singapore.
As Germany has eased border restrictions for travellers from Singapore, the move will allow fully-vaccinated visitors to travel between both countries without any need for quarantine.
The travel arrangement with Brunei will remain unilateral for now, as the country is not open to general travellers from most countries, including Singapore.
Announcing the measures, the Civil Aviation Authority of Singapore (CAAS) adds that travellers under the scheme must have remained in Germany, Brunei or Singapore for at least 21 consecutive days before departure.
Travellers into Singapore must also travel on designated travel lane flights, which will mostly be operated by Singapore Airlines, as well as Lufthansa to Germany and Royal Brunei Airlines to Brunei.
SIA will operate flights from Singapore to Frankfurt to Munich, with the first flight under the scheme departing Frankfurt on 7 September, and Munich a day later.
Travel lane flights to and from Frankfurt will be operated thrice weekly with Boeing 777-300ERs, while Munich will be served twice weekly with Airbus A350-900s.
Lufthansa will only operate flights to Frankfurt under the arrangement, flying twice a week.
In total, these would amount to about 2,000 travellers per week, if the scheme were fully taken up.
As for Brunei, SIA will operate one travel lane flight a week with 737-800s, while Royal Brunei will operate twice-weekly flights.
The CAAS states that other direct flights between Singapore and both countries will continue, but that these will not fall under the ambit of the travel lane arrangement and travellers on these flights will be subject to prevailing quarantine measures upon arrival in Singapore.
The move is part of a broader reopening of the economy amid a pick-up in vaccination rates in the city-state.
IATA deputy director-general Conrad Clifford lauded the move, calling it a "positive step in the right direction" which will aid recovery of the aviation and tourism sectors.
"We have seen moves around the world to reopen borders, allow international travel, and restarting their aviation and tourism sectors. Asia-Pacific risks being left behind. A data driven approach using vaccination and testing can manage the risk of Covid-19 when reopening borders to international travel. Singapore has shown leadership in demonstrating that it is safe to reopen international travel without quarantine. I hope other Asia Pacific states will take similar steps with their borders."
TRAVEL BUBBLE WITH HONG KONG SCRAPPED
Separately, Singapore and Hong Kong scrapped a bilateral travel bubble arrangement, citing a difference in pandemic management strategies.
Providing an update to the twice-delayed scheme, Singapore's transport ministry says both cities have "agreed not to pursue further discussions…at this point".
"Both [Hong Kong and Singapore] are focused on keeping our populations safe and preventing the risk of imported cases. But our strategies differ, with Singapore now taking steps towards becoming a Covid-19-resilient nation," the ministry states.
While Singapore has publicly stated its intentions to move towards living with an endemic coronavirus, Hong Kong has moved towards an elimination of the virus within the community.
"Both Singapore and Hong Kong reaffirm the importance of maintaining connectivity between our cities. As major aviation hubs, travel links between Singapore and Hong Kong are critical for our businesses and our people," the ministry adds.
To this end, Singapore will unilaterally open up its borders to visitors from Hong Kong and Macau, doing away with mandatory quarantine, and replacing it with an on-arrival coronavirus test. This is similar to measures already implemented for travellers from Mainland China excluding Jiangsu province, as well as New Zealand and Taiwan.
As for Hong Kong, it has already shortened quarantine period for Singapore travellers, and will "continue to consider adjusting its border measures" for travel between both cities.
The Singapore-Hong Kong travel bubble was to have been launched in November 2020, but was suspended at the eleventh hour, following a spike in cases in Hong Kong.
It was relaunched in May this year, but postponed again because of a rise in cases in Singapore.
Singapore has also been in talks with Australia about a potential travel bubble, but its fate is unclear at the moment, amid a sudden surge in infections in Australia.