Singapore will allow non-vaccinated travellers to entry the country without quarantine or post-arrival testing, as part of a broader move to fully ease Covid-19 restrictions, including the wearing of masks.
From 29 August, all non-vaccinated travellers will not be required to undergo a seven-day quarantine upon arrival, and do not need to take an on-arrival polymerase chain reaction test for the coronavirus.
However, these travellers will have to test negative on a pre-departure test, says the country's health ministry in a 24 August statement.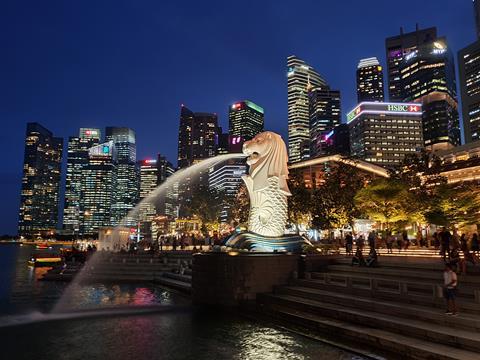 Singapore is also doing away with compulsory mask-wearing in most public spaces, including in shopping malls and at the airport, though it stopped short of fully easing the mask mandate.
Passengers on flights to and from the city state will be required to comply with individual airline policy on mask-wearing, with the health ministry urging travellers "to check with their respective operator prior to their trip on whether the mask-wearing requirement applies for their trip".
Welcoming Singapore's move to ease restrictions for unvaccinated travellers, IATA regional vice president for Asia Pacific Philip Goh says: "These changes bring Singapore closer to what we are seeing elsewhere in Asia and the rest of the world. We look forward to Singapore removing the remaining COVID measures for all travelers eventually."
JAPAN TWEAKS ENTRY REQUIREMENTS
Separately, the Japanese government has adjusted entry restrictions, doing away with pre-departure testing for inbound travellers who have received three shots of the coronavirus vaccine.
Speaking at a virtual press conference, Japanese prime minister Fumio Kishida says his government is still mulling whether or not to raise the daily entry limits for travellers, from the current 20,000 visitors.
Japanese news reports on 23 August, citing unnamed government officials, stated that Tokyo was looking to increase the daily cap to 50,000 as soon as September. The same sources also stated that Japan is considering doing away the requirement that all inbound visitors need to be on a guided tour, a move that has been slow to gain traction.
Japan – alongside North Asian neighbour China– is one of the last few major economies to still impose strict entry requirements for travellers. These strict measures have sparked calls for the country to press on with reopening. Speaking in Singapore in May, IATA director-general Willie Walsh called Tokyo's reluctance to reopen "disappointing", noting that the country was a key market for a number of operators.
IATA's Goh, meanwhile, says the move is "a step in the right direction", but doubled down on calls to "restore travel to normalcy".
In his statement, Goh says: "However, the announcement did not include a timeline for the reinstatement of the visa waiver program, the removal of restrictions on inbound tourists and the elimination of the daily cap on visitors. While we welcome the latest development, Japan needs to do more to restore travel to normalcy."
Story updated with comments from IATA.