Singapore has hinted that its residents could be allowed to travel abroad if the city-state's vaccination rates keep up.
At a 24 June press conference, Singapore finance minister Lawrence Wong says his government is "working through" travel requirements, as part of broader public health guidelines for vaccinated persons.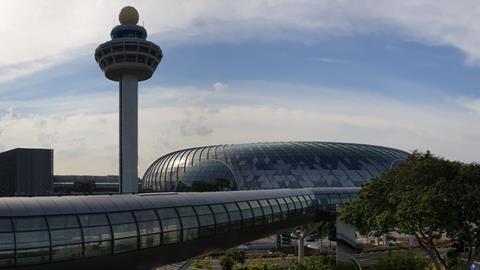 Wong, who also co-chairs the country's coronavirus pandemic task-force, says revised travel rules could include reducing — or even waiving — mandatory quarantine altogether for returning Singapore residents. The guidelines are likely to vary according to country of travel, adds the minister.
Singapore's international borders remain largely shut to keep out the coronavirus. Leisure travel in and out of the country has not resumed, while a much-anticipated quarantine-free travel arrangement with Hong Kong has failed to take off twice.
Singapore has set the "ambitious target" of having two-thirds of its population inoculated by early August. Wong has expressed optimism that the country is on track to hit the target.
As at 21 June, Singapore has administered slightly over five million vaccinations, with about two million people fully-vaccinated.
The latest development comes days after Singapore eased the quarantine period for travellers from 'high-risk' countries and regions — which it defines as all countries/regions except Australia, Brunei, Hong Kong, Macao, Mainland China, as well as New Zealand — from 21 to 14 days.
The city-state previously increased the quarantine period in early May, following a rise in unlinked cases in Singapore, as well as fresh waves of virus outbreaks globally.
Similarly, Hong Kong on 21 June announced an easing measures for vaccinated residents and visitors, cutting quarantine from 14 to seven days.
The city reported no locally-transmitted coronavirus cases for nearly two weeks, and is on track for a loosening of restrictions.