Singapore and Hong Kong plan to kick off quarantine-free travel arrangements on 26 May, the second attempt since initial plans were scuppered at the eleventh hour.
The latest air travel bubble, which comes days after Singapore authorities said there was no fixed date for a relaunch, will feature stricter arrangements to "better safeguard public health and provide greater stability", says the Civil Aviation Authority of Singapore (CAAS).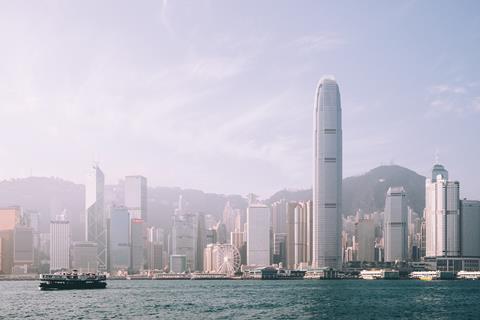 For instance, travellers under the scheme must have remained in either Singapore or Hong Kong for at least 14 days before departure. CAAS adds that the 14-day period excludes time spent in post-arrival quarantine.
Both Singapore Airlines and Cathay Pacific will operate travel bubble flights, with frequencies "allocated equally" between both carriers. From 26 May to 9 June, there will be one flight a day between both cities, with 200 passengers on board.
This will be increased to twice daily flights, again with a capacity limit of 200 passengers.
SIA, which says it welcomed the move to restart the travel bubble, will operate its Airbus A350-900s at the start, before using its Boeing 777-300ERs for most of June and beyond. Cathay, meanwhile, says it will operate its A350-900s for the route.
The travel bubble — which allows for leisure travel to take place without the need for quarantine measures — was to have kicked off on 22 November last year, but was called off a day before it was due to commence, following a spike in coronavirus cases in Hong Kong.
In December, both cities said the travel bubble would be pushed back to 2021, but did not commit to a specific launch date.
On 22 April, Singapore's transport ministry responded to media reports of a delay in the travel bubble relaunch, stating: "We have not fixed a date to announce the resumption of the bubble, but will do so once we are ready, hopefully very soon."
Like its previous iteration, travel bubble arrangements will be suspended for two weeks if the seven-day moving average of daily unlinked coronavirus cases is more than five.
Following the two-week suspension, the travel bubble arrangements can only resume on two conditions: that the number of average daily unlinked cases falls to below five; and that the three subsequent days following the suspension record no more than three unlinked cases a day.
Hong Kong has mandated that its residents be fully vaccinated before flying on the travel bubble, a move that has not been reciprocated by its Singaporean counterparts. Singapore, on its part, will bar all work permit holders working in the construction, marine shipyard or process sectors from travelling on these arrangements.
The latest announcement comes after the suspension of travel bubble arrangements between Western Australia and New Zealand, following an outbreak in the Australian state. The regions of Perth and Peel in Western Australia were put on a three-day lockdown beginning 24 April, due to a traveller testing positive for the coronavirus.
Story updated with Cathay's operational details.