Singapore Airlines will operate daily flights under a quarantine-free travel scheme between Singapore and three major cities in India, marking the first scheduled flights between both countries in nearly two years.
The move comes as Singapore adds India to a growing list of countries under the Vaccinated Travel Lane (VTL) scheme. Under the arrangement, fully-vaccinated travellers need not serve mandatory quarantine if they fly into Singapore on designated flights and take a pre-departure and post-arrival coronavirus test.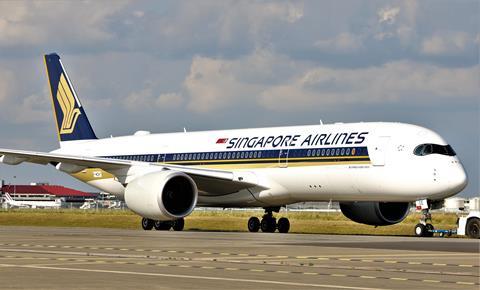 India also opened its international borders for fully-vaccinated visitors, after shutting them amid the coronavirus virus.
Releasing its schedules for VTL flights to India, SIA says its first flight will resume on 29 November. It will fly to Delhi and Chennai with its Boeing 787-10s, while flights to Mumbai will be operated with Airbus A350-900s.
From 30 November, the airline will also ramp up capacity into other Indian cities, though these do not fall under the VTL scheme. Cities that the carrier will resume operations to include Ahmedabad, Hyderabad, Kolkata, as well as Kochi, which were formerly served by regional unit SilkAir, which has since been folded into the SIA brand.
SIA's low-cost arm Scoot is also set to restore flights to three Indian cities: Amritsar, Hyderabad, as well as Tiruchirappalli. These flights also not fall under the VTL arrangement.
The Civil Aviation Authority of Singapore (CAAS) states that it will allow for up to six daily VTL flights between Singapore and Delhi, Chennai and Mumbai, which indicates the likelihood of Indian carriers being allowed to operate similar flights.
So far, airlines in India have not released their schedules for Singapore flights. Pre-pandemic, airlines that flew between Singapore and India include flag carrier Air India, its low-cost unit Air India Express, low-cost carrier IndiGo, as well as SIA joint-venture Vistara.
The reopening of borders with India is expected to be met with strong demand, given the big Indian community in Singapore. India was also among the top three countries for tourist arrivals into Singapore in 2019.
The CAAS states that as of 22 November, it received more than 1,000 applications for Vaccinated Travel Passes from India, which non-Singaporean travellers must apply for to be allowed into Singapore.
Singapore has in recent months pushed through with border reopening, including to neighbouring Malaysia and Indonesia, Australia, as well as to most of Europe and North America.