Singapore has lifted the operational ban on the Boeing 737 Max, becoming the second country in Southeast Asia to do so, days after neighbouring Malaysia.
A statement from the Civil Aviation Authority of Singapore (CAAS) says restrictions on 737 Max operations into and out of the city-state have been lifted effective 6 September.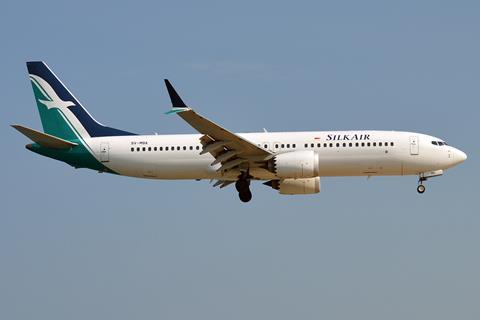 The lifting of the grounding comes after the agency "reviewed the operational data" of the aircraft after it resumed service in other parts of the world, including in the USA and European Union.
CAAS says it "observed that there have been no notable safety issues" with the aircraft since its return to service.
Singapore grounded the popular narrowbody on 12 March 2019, days after the second of two fatal crashes involving the 737 Max.
"CAAS made the decision to lift the restrictions after completing its technical assessment, which included an evaluation of the design changes to the aircraft made by Boeing and approved by the United States Federal Aviation Administration (FAA) and other validating authorities," the agency states.
Responding to the CAAS' announcement, Boeing says: "The CAAS's decision is an important milestone toward safely returning the 737 Max to service in Singapore. Boeing continues to work with regulators and our customers to return the airplane to service worldwide."
CAAS states that Singapore air operators intending to operate the 737 Max must comply with FAA regulations, as well as CAAS directives issued on 6 September.
The directive states that operators must establish a flight crew training programme approved by the CAAS comprising ground and flight training elements, "with additional simulator training to ensure that pilots are adequately trained on workload management when handling aircraft emergencies".
"In particular, Singapore Airlines must satisfy CAAS that it has complied with and implemented all the required actions stated … before its Boeing 737 Max aircraft can return to service," the agency adds.
Singapore Airlines is the only Singapore-based operator of the 737 Max, having inherited the fleet of narrowbodies following its merger with regional unit SilkAir. Cirium fleets data shows the carrier has a fleet of six 737 Max 8s, with another 31 examples on order.
At the release of its full-year results in May, SIA says it intends to take delivery of eight 737 Max 8s during the year to 31 March 2022. In March, the carrier told FlightGlobal it was working to "progressively" bring the Max out from long-term storage.
Singapore's decision to overturn the 737 Max operational ban follows Malaysia's announcement on 2 September. Other Asia-Pacific nations that have cleared the type's return to service are Australia, Fiji, India and New Zealand. China, however, has yet to rescind its grounding.
To date, restrictions on 737 Max operations have been lifted in 177 countries, with more than 30 operators returning the aircraft into service.
Story updated with comments from Boeing.