Singapore and New Zealand have signed a joined memorandum of arrangement to work together to develop and advance sustainable aviation initiatives.
The partnership will see the two countries work on four areas: policy and regulation, industry development, infrastructure planning, as well as workforce transformation.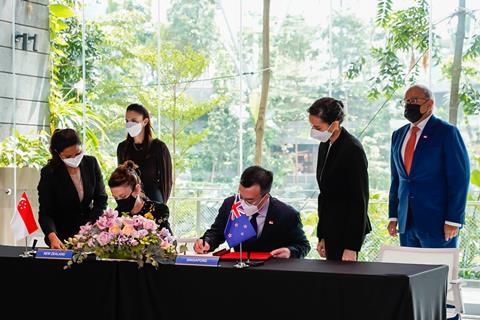 It will also see Singapore and New Zealand coordinate in the development and testing of sustainable aviation fuels, as well as studying the viability of "green lanes" between both countries "to encourage the gradual uptake of SAF-operated flights by consumers".
The partnership - the first bilateral cooperation on sustainable aviation for both countries - was inked on the sidelines of New Zealand prime minister Jacinda Ardern's official visit to Singapore, and comes under the ambit of the Singapore-New Zealand Enhanced Partnership.
The move comes as Singapore's civil aviation regulator works on developing a sustainable aviation blueprint to set medium- to long-term sustainability goals. The paper is due to be published in 2023.
"Sustainability has been identified … as a priority for the Singapore aviation sector as it re-emerges from the Covid-19 pandemic to rebuild and reclaim Singapore's position as an international air hub with global connectivity," the Civil Aviation Authority of Singapore adds.