Singapore air passenger traffic jumped sharply after the city state fully opened its borders at the beginning of April.
The Civil Aviation Authority of Singapore (CAAS) on 18 April says traffic levels at Changi Airport are currently 31% pre-pandemic levels, up from just 18% a month ago, when the decision was made to fully reopen borders.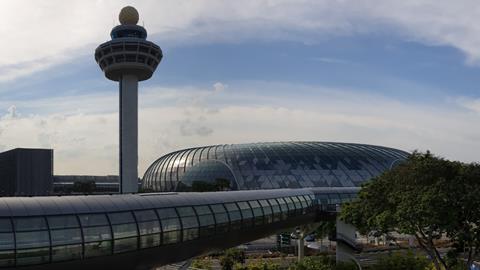 It adds: "The increase in air passenger traffic was broad based. Traffic volume increased for all major markets, with particularly strong growth for traffic to and from Australia, Malaysia, Indonesia and Thailand."
The number of passenger flights to and from the city-state rose from 29% a month ago to 38% pre-pandemic levels. The agency notes that flights from countries including Australia, Malaysia and Vietnam saw the sharpest increase, in tandem with the loosening of border restrictions.
Singapore on 1 April fully reopened borders, replacing its Vaccinated Travel Lane arrangement with a blanket "vaccinated travel framework", where travellers from any "low-risk" country can enter Singapore quarantine-free.
As part of the shift, the CAAS removed arrival quotas and did away with designated travel lane flights. It also eased testing requirements for inbound travellers by removing on-arrival tests.
The CAAS expects traffic to continue to rise, particularly in the coming weeks with a long weekend in early May, as well as the June school holiday period. It is "on track" to hit 50% pre-pandemic traffic by year-end, an estimate first disclosed earlier in the year.