Singapore expects traveller arrivals to grow by the year-end, as it reports a "good take-up" in its quarantine-free travel arrangement for fully-vaccinated travellers.
The Civil Aviation Authority of Singapore (CAAS) has provided an update on the Vaccinated Travel Lane (VTL) scheme, days after it announced its largest border reopening yet, to eight countries, including the USA, UK, as well as Canada.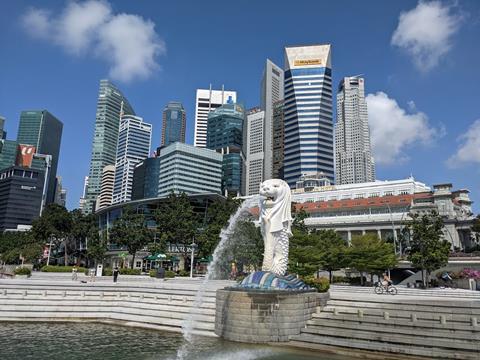 Under the VTL scheme, travellers do not need to serve quarantine upon arriving in Singapore, but will have to take pre-departure and post-arrival polymerase chain reaction (PCR) tests for the coronavirus. They also must travel on designated VTL flights.
CAAS says it approved more than 2,400 travel pass applications under the scheme on 12 October, the first day that eligible travellers from the eight countries were able to apply for passes to enter between 19 October and 17 November.
Singaporeans and Singapore permanent residents are exempt from applying for a pass to enter the country, under current travel arrangements.
Of the eight countries, the highest number of passes approved were to travellers from the UK, at 976. This was followed by travellers from France (537 passes), and the USA (440 passes).
CAAS director-general Han Kok Juan says his agency is "heartened by the good take-up and expect numbers to grow towards the end of the year".
Singapore also reopened its borders to South Korea, though applications for travel passes will open on 8 November, for travel from 15 November.
Singapore also has existing VTL arrangements with Germany and Brunei, which were launched in early September. CAAS says it has approved more than 5,220 travel passes since applications opened for eligible travellers from the two countries on 1 September.
The city-state expects to welcome up to 3,000 passengers daily once all VTL arrangements are up and running — still a small fraction of pre-pandemic passenger arrivals.
"We will monitor the demand and may adjust the quota of VTL travellers entering Singapore if needed," says CAAS.
Separately, Singapore's transport minister S Iswaran has reiterated his country's commitment to "do more" with partner countries in reopening similar travel lanes.
Speaking at the ICAO High-Level Conference on Covid-19, Iswaran says he hoped VTLs "can serve as a pathfinder for more countries and regions to reconnect safely".
Noting that the world is "at a key inflexion point to revive and resume international air travel", the minister adds: "Our goal as government and industry leaders must be to restore the role of aviation in connecting people, places and opportunities."