In its largest border reopening yet, Singapore will expand quarantine-free travel lane arrangements to several countries in Europe, as well as Canada and the USA.
The city-state will also tweak requirements for the Vaccinated Travel Lane (VTL) scheme, including reducing the number of polymerase chain reaction (PCR) tests each traveller has to undergo in place of quarantine.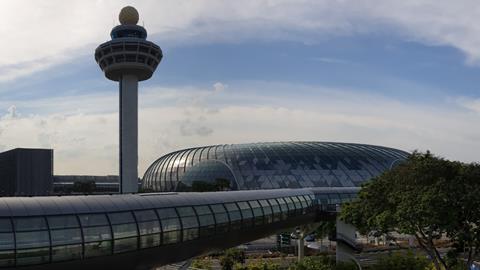 From 19 October, Singapore will allow in fully-vaccinated travellers from the UK, Denmark, France, Italy, the Netherlands, Spain, Canada and the USA.
This is on top of existing travel arrangements in place with Germany and Brunei, which were launched in early September.
At a pandemic taskforce press conference on 9 October, Singapore transport minister S Iswaran says the move to allow quarantine-free travel with the nine countries represents a "significant step" in reopening borders.
The minister notes that the nine countries — which already have already eased restrictions for travellers from Singapore — accounted for around 10% of pre-pandemic arrivals.
Iswaran adds: "While still a far cry from where we were pre-Covid, this is a significant step in the reopening of our borders, and crucial to reclaiming and rebuilding our status as an international aviation hub with global connectivity."
To "help reduce cost and improve convenience" for travellers on the VTL, Singapore will also halve the number of Covid-19 tests required. From 19 October, VTL travellers will only need to take a pre-departure — within 48 hours before departing to Singapore — PCR test and a post-arrival test at the airport.
Travellers will no longer be required to take PCR tests on their third and seventh day after arriving in Singapore.
As with previous requirements, all incoming short-term visitors and long-term pass holders will have to apply for a travel pass before entering Singapore. Singaporeans and Singapore permanent residents are exempt from this requirement. All travellers must also fly on designated flights, most of which will be operated by flag carrier Singapore Airlines.
The announcement comes a day after Singapore and South Korea mutually launched quarantine-free travel between both countries from November.
When implemented, all VTLs — including those with Germany and Brunei — are set to welcome up to 3,000 passengers daily — still a small fraction of pre-pandemic arrival numbers.
At the press conference, Iswaran says his government will "monitor the incidence rates" before deciding on increasing arrival caps.
In a month since the rollout of the VTL with Germany and Brunei, Iswaran says around 3,100 travellers have entered the city-state through the scheme.
"We aim to restore safe two-way quarantine-free travel with more countries and regions from around the world, and are engaged in several discussions to that end. When we announced the VTLs with Germany and Brunei, I emphasised that we would be cautious and calibrated in our approach, carefully assessing the risk and operational implications — that is why we have taken the time to closely monitor the implementation of our initial vaccinated travel lanes before designing on these latest moves," he adds.
The move to significantly ease border measures has understandably been welcomed by the airline industry.
Regional vice president for Asia-Pacific at IATA Philip Goh called the announcement "a positive and promising development for the aviation and travel sector".
"We look forward to more of such progressive and positive developments that will help to restart air travel.
"Singapore's announcement is very encouraging and a step in the right direction. We hope this will give other Asia Pacific states confidence to hasten the reopening of their borders," he adds.