Singapore is to "carefully" restore air connectivity with Mainland China, following the latter country's full border reopening, even as flights remain well below pre-pandemic levels.
In a parliamentary statement on 9 January, Singapore transport minister S Iswaran says Singaporean and Chinese carriers have applied to ramp up flights between the two countries following news of China's border reopening, but that regulators will "progressively" review and approve these applications.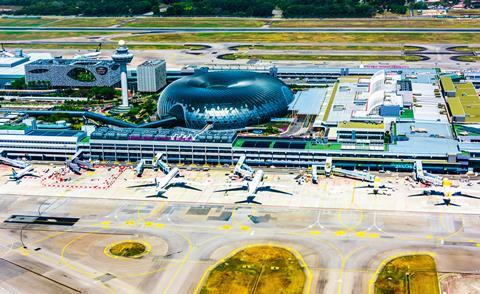 China dropped almost all its travel restrictions on international travellers on 8 January, doing away with quarantine but still requiring travellers to test before departure.
Iswaran adds that Singapore will continue to pace the resumption of flights – as it had when other countries reopened their borders – "to ensure that Changi Airport has the physical and operational capacity to support the anticipated flight and passenger flows".
To date, there are 38 weekly flights between China and Singapore, compared to 25 weekly flights as at end-October 2022.
Still, the minister points out that the frequencies are less than 10% the number of pre-pandemic flights. Before travel restrictions were lifted, Singapore received up to 1,000 Chinese arrivals daily, which makes up 1.5% pre-pandemic arrivals, says Iswaran.
Singapore is a popular destination among Chinese travellers before the pandemic struck, with China among the top source markets.
Adds Iswaran: "We welcome China's recent moves to restore quarantine-free travel with the rest of the world. Singapore enjoys longstanding and multi-faceted relations with China. It is in the interest of both our countries to restore our air connectivity in a safe and orderly manner."
In a separate statement in parliament, Singapore health minister Ong Ye Kung has also ruled out imposing testing requirements on Chinese arrivals, noting that Covid-19 cases can originate from anywhere.
Ong says: "By triggering [pre-departure testing] on travellers from one part of the world experiencing high infection numbers, are we contributing to an international precedent of imposing tests on travellers from countries going through an infection wave?"
His comments comes as China sees an explosion of infections since easing its 'zero-Covid' policy, prompting a hodgepodge of testing requirements for Chinese arrivals in several countries around the world, including the USA, UK and Japan. IATA has slammed such moves as "knee-jerk" and ineffective considering that the virus is already circulating widely within these countries' borders.
Thailand – another country popular with Chinese tourists – abruptly reversed restrictions which it imposed in the lead-up to China's reopening.
On 9 January, Thai health minister Anutin Charnvirakul said inbound travellers will no longer be required to show proof of vaccination, noting that it was "inconvenient" and that vaccination rates remained high globally.
Thailand expects a up to 10 million Chinese visitors a year, says Anutin, adding that the border reopening was a "good sign" for the country's tourism sector.
The global airline response to news of China's reopening has been tepid at best, with airlines adopting a 'wait and see' approach to restoring capacity. Major carriers in Asia-Pacific – some of whom have had large exposure to the Chinese market in pre-pandemic times – have so far not announced a major ramp-up in China flights.