Singapore will fully reopen its international borders to vaccinated travellers from 1 April, as part of a broader easing of pandemic restrictions in the city-state.
Transport minister S Iswaran says the existing Vaccinated Travel Lane (VTL) arrangement will be retired, and be instead replaced with a blanket "vaccinated travel framework".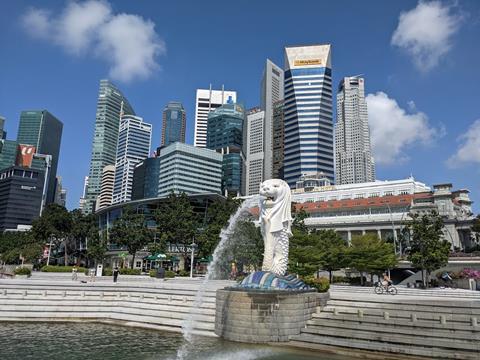 Under the new scheme, travellers from any "low-risk" country can enter Singapore quarantine-free. There are currently no countries in the high-risk, restricted category.
Arrival quotas - imposed under the VTL scheme - will also be removed, and airlines will no longer need to operate designated VTL flights, says the Civil Aviation Authority of Singapore (CAAS).
Singapore will also ease testing requirements for inbound travellers, by removing on-arrival tests. It will still require travellers to take a pre-departure test within 48h of departure.
"CAAS has been working with its aviation partners to prepare for this shift to the new Vaccinated Travel Framework. The airport community is gearing up for higher traffic volumes to ensure smooth and good traveller experience. In line with making travel more seamless and convenient for travellers, airport operations will also be streamlined and adjusted," the agency adds.
Speaking at multi-ministry pandemic taskforce briefing, Iswaran says the "decisive step" to fully reopen borders "an important signal to the world… that we are reconnecting with the world".
"Our aim is to welcome airlines back to Singapore…to serve Singapore and the region; raise passenger volumes to at least 50% of pre-Covid levels this year and restore the traveller experience that Changi [Airport] is renowned for," the minister adds.
Singapore's aviation sector had been heavily battered by closed borders amid the coronavirus pandemic.
In September 2021, it announced the rollout of the VTL scheme to Germany and Brunei, as a first step to reopening its borders. Since then, Changi Airport's passenger numbers have crept steadily upwards, though it is still far from full recovery.
The airport hit 18.2% of pre-pandemic passenger numbers during the week of 14 March, the highest level since the start of the pandemic two years ago.
Singapore is the latest country in Asia-Pacific to fully swing open borders. Neighbouring Malaysia is also expected to reopen from 1 April, while India will do so from 27 March. In February, Australia and the Philippines have fully reopened their borders.