Singapore is to restart work on the mega Terminal 5 project – with construction expected to commence within the next three years – amid optimism over projected air traffic recovery.
The decision comes more than two years after the city-state put pause on the project, citing uncertainty over the pace at which air travel demand will recover from the coronavirus outbreak.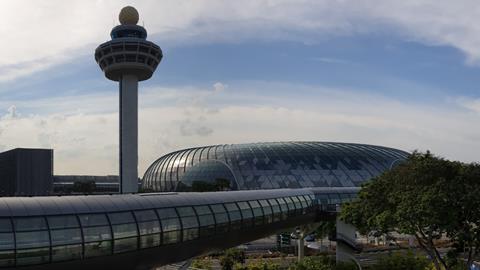 Singapore transport minister S Iswaran says there is now "renewed impetus" for airport expansion, in light of projected recovery in air travel demand.
"We have taken the opportunity of the two-year hiatus to comprehensively review the T5 design to make it more modular and flexible, and enhance its resilience and sustainability," says the minister, who was speaking at the inaugural Changi Aviation Summit in Singapore on 17 May.
The new terminal will be ready by the mid-2030s, the minister adds, at least five years behind earlier projections.
Singapore in June 2020 pushed back development of Changi's fifth passenger terminal, as the pandemic battered the aviation sector globally.
Terminal 5 was to handle up to 50 million passengers annually in its initial phase, and forms part of the Changi East project, which also comprises a third runway which is an extension of an existing military runway, and other support and industrial facilities.
Since borders began to reopen in late 2021, Changi Airport has seen a steady uptick in passenger traffic, with recent data indicating that the airport is above 40% pre-pandemic traffic levels. Changi Airport also expects to recover up to 50% pre-pandemic traffic by the end of this year.
Recovery – particularly in Asia-Pacific – is expected to strengthen in the coming months, says Iswaran, as countries in the region swing open borders and ease testing requirements.