Singapore's Changi Airport could see passenger traffic surpass 50% of pre-pandemic levels in the next few months, as travel demand continues to pick up.
The upcoming school vacation period in June, coupled with the summer travel season, is expected to "add momentum to the volume growth seen at Changi", says transport minister S Iswaran, who was speaking at a media conference following the Changi Aviation Summit.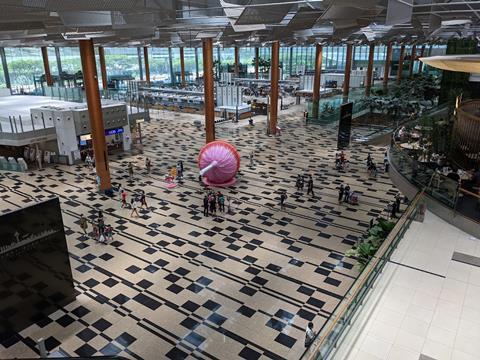 As at end-April, the airport's passenger traffic is above 40% pre-pandemic levels, helped by the country's decision to fully open borders and ease testing requirements.
Changi Airport had previously targeted to recover up to 50% pre-pandemic traffic by the end of this year.
Asked if the Singapore government would revise the forecast given the steady recovery, Iswaran says the focus now is "on ensuring the ramp up [in traffic] is handled as smoothly as possible", especially over the June vacations.
"We will take stock after that, because it is based on all the projections … it is quite likely that the [recovery] momentum will continue. We therefore need to prepare for the next wave," says the minister.
Singapore also announced it would resume work on its mega Terminal 5 project, after a two-year pause. The move is in light of projected recovery in the region after a battering from the coronavirus pandemic.
Following the Changi Aviation Summit, the Singapore transport ministry, along with ICAO, IATA and Airports Council International, issued a joint statement supporting efforts to ramp up recovery, and double down on sustainability efforts, as the sector emerges from the pandemic.
The statement, supported by summit participants which include government agencies, aviation companies and industry bodies, also pledges to support "inclusive innovation" in areas such as gender diversity and new technology.