Singapore's Changi Airport expects to recover more than 80% of flights by the end of the year, with demand set to spike even once North Asian countries like Japan reopen borders.
Singapore transport minister S Iswaran, speaking in parliament on 3 October, says the projection follows flight plans filed by airlines operating to and from the airport.
As at early September, Changi Airport's average weekly passenger traffic recovered to around 60% pre-pandemic levels, with the number of flights at around two-thirds 2019 levels.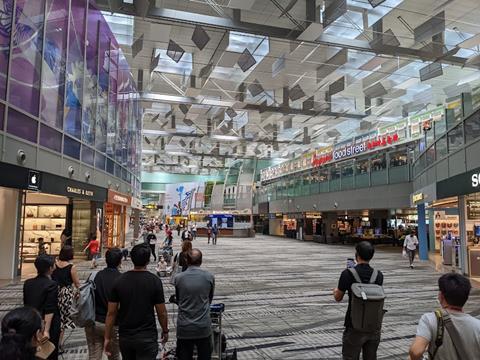 This is well above earlier projections of traffic hitting 50% pre-pandemic levels by year-end, and underscores the rapid recovery Singapore's air travel sector has seen in recent months.
The city-state fully swung open its borders in April, scrapping the need for quarantine, as well as testing.
Says Iswaran: "We expect [the number of flights] to increase further as airlines respond to demand from travellers, following the recent border easing announcements by key travel markets such as Hong Kong, Japan and Taiwan."
Changi Airport, which shuttered two of its four passenger terminals amid the pandemic, has already reopened Terminal 4 in September. It is in the process of reopening Terminal 2, with one half of the terminal set to begin operations in mid-October.
"With this, Changi Airport will have the physical capacity to accommodate up to 100% of pre-COVID-19 passenger traffic levels, or about 70 million passengers per annum," the minister states.
Iswaran also told parliament that the aviation sector has been ramping up hiring – with companies looking to take in another 4,000 workers by the end of the year.
Noting that hiring is "currently on track", the minister notes that the aviation workforce will stand at around 90% pre-pandemic levels.