South Korean carriers carried just 3% fewer domestic passengers in the first half of the year compared to the same period in pre-pandemic 2019, underscoring the steady progress made in traffic recovery.
Data released by the Ministry of Land, Infrastructure and Transport (MOLIT) shows that the country's airlines carried close to 15.5 million domestic passengers in the six months ended 30 June.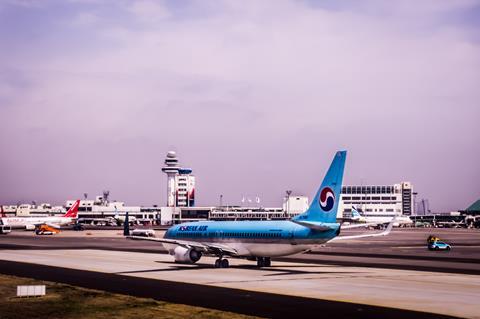 This was a 45.8% jump compared to the same period in 2020, when South Korea was placed under lockdown as infection rates soared.
MOLIT notes that in March this year, domestic passenger numbers even surpassed pre-pandemic levels — a 1.9% increase compared to the same month in 2019.
Even in May, as the country battled a third wave of infections, passenger numbers grew to 3.12 million, the highest levels since October 2019, says the ministry.
On the international front, passenger numbers remain low, as travel restrictions prevent any meaningful recovery. For the period, airlines flew just 1.2 million passengers, nearly 91% lower year on year, and a decline of about 97% compared to the same period in 2019.
MOLIT data also indicates that low-cost carriers saw the largest uptick in domestic passenger numbers — a 73% increase year on year to 11.3 million — while the larger full-service carriers saw a 2.2% increase to 4.2 million passengers.
International cargo volume for the first half also rose —up 8.6% year on year — as Korean carriers tapped into a surge in freight demand. The largest volume increase was registered on cargo flights to the Americas, at 29%, followed by Japan, at 12%.
The ministry also notes that domestic cargo demand has kept pace, with volume for the period increasing nearly 13% year on year.