South Korean carriers have reported a 10.8% increase in overall passenger traffic in 2021, helped by an uptick in domestic flights, which "hit an all-time high" for the year.
Data from South Korea's Ministry of Land, Infrastructure and Transport (MOLIT) shows that South Korean carriers mounted 719 domestic flights a day on average— the most number of flights in at least five years.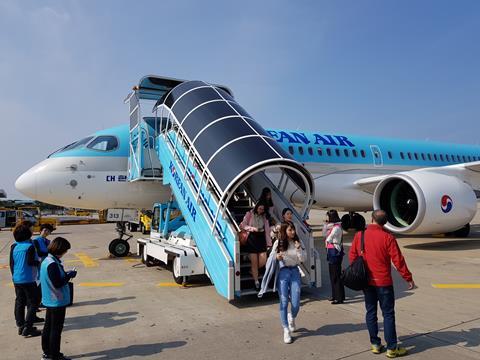 It is also nearly 19% higher year on year, says the ministry, which attributes the increase to an expansion of domestic networks among Korean carriers.
MOLIT also states that the presence of new Korean operators in 2021, as well as additional flights linking regional airports, were key factors in the upswing of flights.
Consequently, Jeju airport became the busiest airport in the country for the year, overtaking Seoul's Incheon airport, which has fallen out of the top spot for the first time in more than five years.
The airport saw an average of 455 domestic flights a day, as airlines expanded domestic operations from the island. Seoul's Gimpo airport, at second place, reported 421 flights a day, while Incheon saw 418 flights.
On the international network, MOLIT data shows traffic to rise only 1.8% year on year, "despite efforts to recover, including launching travel bubbles and expanding cargo operations".
The ministry pointed to the emergence of new coronavirus variants — including the Delta and Omicron variants — as a key factor in tepid recovery.
Still, transit flights provided an uplift for international traffic, with MOLIT disclosing a year-on-year increase of nearly three-fold in such flights.
Chang-seok Chang, MOLIT's air traffic division head, says: "Korea's air traffic in 2021 is showing a gradual recovery compared to 2020, when it plummeted due to Covid-19. We will continue to monitor air traffic volume trends and thoroughly manage and supervise control facilities to provide safe and efficient air traffic services."