South Korea is set to lift the operating ban on the Boeing 737 Max, becoming the latest country in Asia-Pacific to do so.
The Ministry of Land, Infrastructure and Transport (MOLIT) says the grounding of the 737 Max will lift effective 22 November, stating that it was satisfied with the fixes made to the aircraft.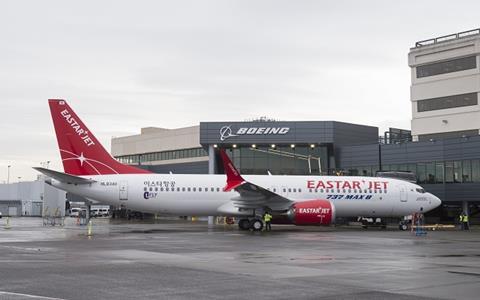 The ministry adds that it had also monitored the operation and safety data of 737 Max operators in other jurisdictions and "have confirmed that there is no…safety issues".
After the operating ban is lifted, MOLIT says it will step up safety inspections for 737 Max operations, to make sure that adequate training is put in place, and that necessary fixes are implemented when new aircraft are introduced.
The 737 Max was grounded globally following two fatal crashes in 2018 and 2019 which killed 346 people. The aircraft returned to service late-2020, beginning with the USA and Brazil.
In Asia-Pacific, Australia was the first county to lift the type's grounding this year. Several other nations, including Malaysia, Singapore and India, have followed suit.
However, China remains the only major economy that has not lifted the operational ban.
In South Korea, low-cost carrier Eastar Jet, which suspended operations amid financial woes, is the only 737 Max operator. Cirium fleets data shows the airline has two 737 Max 8s, and another four on order.
Compatriots Jeju Air and Korean Air, meanwhile, have 40 and 30 examples on order.