South Korea has recovered up to 58% of international passenger volume, led by a "significant" ramp-up of traffic to and from Southeast Asia following the easing of Covid-19 restrictions.
Data from the country's Ministry of Land, Infrastructure and Transport (MOLIT) shows that Southeast Asia passenger traffic recovered to about 66% of pre-pandemic volumes in January – among the highest recovery rates across regions.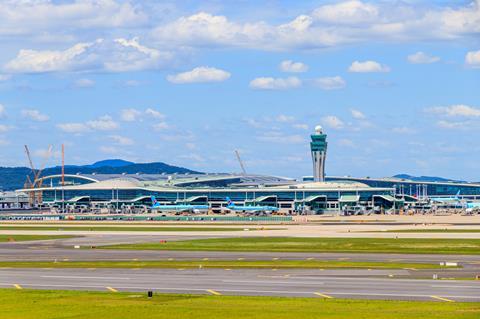 In recent months, South Korean carriers – especially low-cost operators – have ramped up flights to Southeast Asia. T'way Air, for instance, operates its Airbus A330s on flights to Singapore and Bangkok from Seoul Incheon. Compatriot Jin Air has also launched flights to points in the Philippines and Malaysia in 2022.
MOLIT also points out the return of traffic to and from neighbouring Japan, which also eased its border restrictions in October 2022. The ministry's latest data shows there were 1.3 million passengers from Japan, a large uptick against August 2022's 160,000 passengers.
As for China, which in pre-pandemic years was a significant source market for travellers, MOLIT notes that recovery remains tepid, despite "expectations of recovery" after Beijing dropped its 'Zero-Covid' policy on 8 January.
South Korea imposed quarantine measures on all Chinese arrivals amid an explosion of coronavirus infections in China after leader Xi Jinping's 'zero-Covid' policy was scrapped. The move has led to Beijing imposing retaliatory quarantine measures on South Korean arrivals.
MOLIT data shows that passenger volume to and from the Chinese mainland in January was merely 8% pre-pandemic levels, at around 100,000 passengers.
Separately, the ministry also notes that domestic passenger numbers were exceeding pre-pandemic levels. At 2.6 million passengers in January, the figure is about 4% higher than the same month in 2019.
Domestic passenger numbers in 2022 also hit a five-year high: South Korean carriers flew over 36 million passengers, a 10% increase against 2019.