After a several-hour tarmac hold, Boeing scrapped the planned first flight of its 777X on 24 January due to high winds.
The company now says it will try again for first flight tomorrow, on 25 January.
It was the second straight day weather derailed Boeing's plan to have its next-generation widebody show the world the underside of its wings.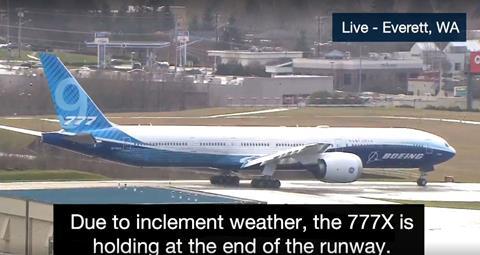 Boeing had initially anticipated first flight would occur on 23 January, but weather conditions forced a one-day delay.
On the morning of the 24th, every indication suggested Boeing would get the 777X in the air.
Hundreds of company employees, wrapped in parkas, gathered at Paine Field for the flight, as did members of the media. Boeing also live-webcast the event.
The 777X test aircraft, registration N779XW, left a gate at Paine Field shortly after 10:00 local time and taxied, its wings folded up, to the end of runway 34L.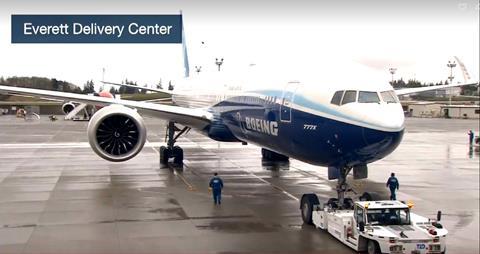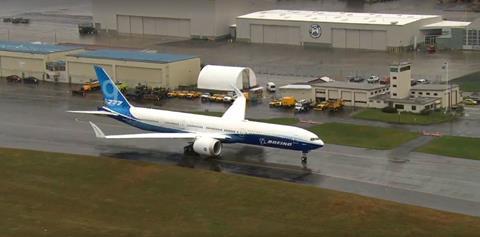 There, the pilots held short, waiting for the wind to settle. It never did.
Puget Sound is just north of Paine Field, and Boeing's test flights takeoff to the north so the aircraft are quickly flying over water, not populated land areas.
But the wind on the 24th blew from the south, roughly the same direction as the runway, with gusts up to 33kt.
Too much tailwind, Boeing said.
At about 13:30, after nearly a 3.5h hold at the end of the runway, Boeing called off the first flight. The aircraft taxied back to a hangar.
"We will be prepared to go again tomorrow [at 10:00] should the weather allow," Boeing says.
Boeing had planned for the flight to leave Paine Field, which is north of Seattle, and to land at Boeing Field, south of Seattle.