Thailand's civil aviation authorities has eased restrictions for travel to and from high-risk regions in the country, which includes capital Bangkok.
The Civil Aviation Authority of Thailand (CAAT) will allow airlines to operate domestic passenger flights out of "dark red" areas — the local classification for risk levels — from 1 September, with several restrictions in place.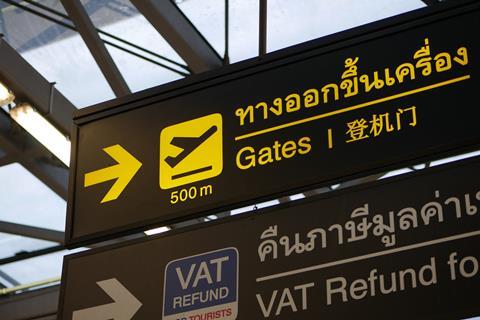 Passengers flying out of Bangkok must either be fully-vaccinated, and have tested negative for the coronavirus prior to departure. Inbound domestic passengers will not subject to the same regulations, states the authority.
The CAAT has also stipulated that airlines can only operate flights at 75% capacity. "Airlines must also consider the arrangement of seats, taking into account safe distancing measures," it adds.
Consequently, Thai carriers have announced a resumption of a limited number of flights to the capital city.
Bangkok Airways states that it will resume flights to three domestic points — Chiang Mai, Phuket, and Samui — from 1 September, while flights to Lampang will commence on 9 September, and Sukhothai, a week later.
Low-cost carrier Thai AirAsia, which suspended all flying throughout August, announced a resumption of flights to 11 domestic points from 3 September.
From Bangkok Don Mueang airport, the carrier will operate flights to cities such as Chiang Mai, Hat Yai, Udon Thani, as well as Phuket.
Other carriers such as Thai Lion Air, Thai Smile Air, and Nok Air have similarly announced a resumption of Bangkok flights from 1 September.
Thailand reported more than 16,500 new coronavirus infections on 29 August, a dip from the peak in case numbers in mid-August.