Thailand has extended financial measures to help its carriers to weather the impact of the coronavirus pandemic.
The Civil Aviation Authority of Thailand (CAAT) says in a 10 July announcement that it will be extending relief measures for the airline industry until the end of September.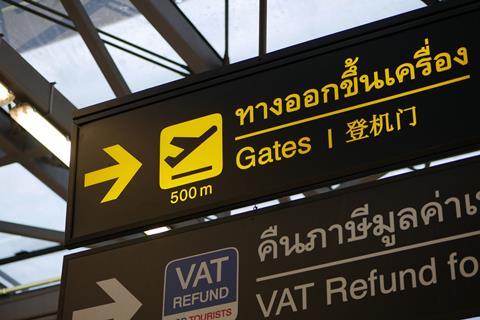 Airports of Thailand, which operates a large number of major Thai gateways, including Bangkok's Suvarnabhumi airport, will halve its landing and parking fees for operators. Airlines that have suspended all flights during the period will also receive waivers on these fees.
The CAAT will also extend credit terms and waive penalties or surcharges for airlines that had previously failed to pay fees.
The move comes amid tightened restrictions in several parts of the country following a record surge in infections, which has prompted carriers to suspend all or a large number of domestic flights.
Thailand reported a record 9,539 new coronavirus infections on 11 July, the highest figure in nearly two months.
Bangkok and its surrounding provinces, as well as some of the country's southern cities, have entered a lockdown, which will see a night curfew imposed and inter-provincial travel restricted. Consequently, Thai carriers have scrambled to adjust domestic flight schedules.
Low-cost carrier Thai AirAsia announced it had cancelled all flights from 10 to 31 July, "in support of the [pandemic] containment efforts by the government".
"We will continue to monitor the situation closely and will be prepared to reinstate our scheduled flight services again as soon as possible," the carrier, which is the second AirAsia Group carrier to suspend all operations after its Indonesian sister unit, adds.
Bangkok Airways has suspended flights from Bangkok to five Thai cities, including Phuket and Chiang Mai, until 31 July.
Set against the latest restrictions is an ambitious plan by the Thai government to reopen the country's borders to vaccinated tourists by end-October, in a bid to revive the country's tourism industry.
The popular tourist island of Phuket was first to welcome tourists — under the auspices of the 'Phuket Sandbox' initiative — on 1 July. The Thai government has insisted that the country's reopening is still on track, despite the uptick in cases.