Thai authorities expect international passenger numbers to hit pre-pandemic levels "before 2025", as the country inches towards welcoming back visitors in the tourist hotspot of Phuket.
Detailing measures that will be undertaken in the advent of the 'Phuket Sandbox' pilot, the Civil Aviation Authority of Thailand (CAAT) notes that the target takes into account a successful full reopening of borders.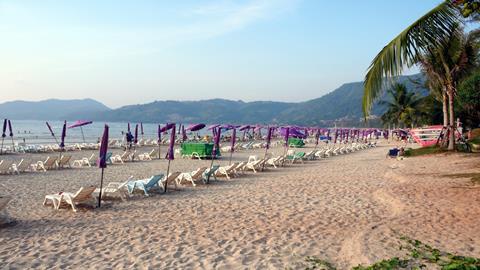 Thai prime minister Prayuth Chan-Ocha has set a target of opening up by mid-October, following more than a year of shut international borders.
The move, announced by Chan-Ocha on 16 June, will allow fully-vaccinated visitors to enter the country without the need for quarantine, and is aimed at rebooting the country's tourism-dependent economy.
The Thai tourism sector has taken a hard hit as borders remain shut. CAAT statistics showed that for 2020, the country received just 16 million international passengers. This represented a staggering 82% decrease year on year.
For Phuket, which will allow vaccinated travellers in without quarantine from July 1, the CAAT discloses that the July-October summer scheduling period will see about 134 flights a day. This represents just over a quarter of the Phuket airport's maximum capacity of 480 flights a day.
By the winter scheduling period, which runs from 31 October until 26 March 2022, CAAT expects about 320 flights a day.
Across Thailand, CAAT expects that by July, passenger arrivals will nearly double to about 146,000. By the end of the year, that number is forecast to increase tenfold, with nearly 1.5 million passengers arriving in the country.
Already, several carriers have upped frequency into Phuket — flag carrier Thai Airways, for instance, will launch flights from 2 July to five European points: Zurich, Paris, Copenhagen, Frankfurt and London. Sister carrier Thai Smile will meanwhile begin a Phuket-Hong Kong service on 1 July.
Middle Eastern airlines like Emirates, Qatar Airways and Etihad Airways are also muscling in on air services to the island from July, while Dutch carrier KLM has programmed four Boeing 777-300ER flights per week to Phuket, via Kuala Lumpur, for the winter scheduling season.