Titan Aviation Holdings, the dry-leasing subsidiary of aircraft lessor and air freight company Atlas Air Worldwide Holdings, says it has entered a joint venture with Bain Capital Credit to develop a cargo aircraft leasing portfolio as it seeks to benefit from continued rapid rise of e-commerce.
The joint venture will have an anticipated value of $1 billion, the Purchase, New York-based parent company of Atlas Air and Polar Air Cargo says on 18 December.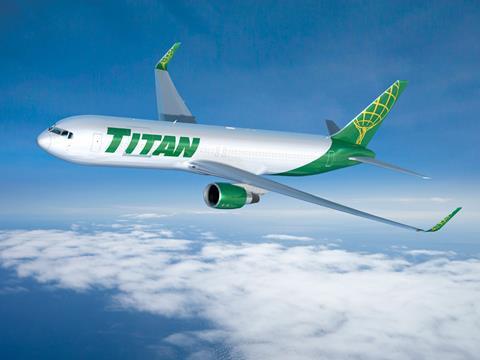 Under the joint venture, Bain and Titan "have committed to provide $360 million and $40 million of equity capital, respectively, which could be supplemented with additional commitments later in order to acquire aircraft over the next several years." Titan will also provide aircraft- and lease-management services as part of the deal.
"We are delighted to team up with Bain," Titan's chief executive Michael Steen says in a statement. "Both Bain and Titan share the same vision and investment strategy. Together, we are extremely well-positioned for further opportunities in the growing freighter space."
Titan is the world's third-largest freighter lessor with more than 30 aircraft that have a book value of $1.5 billion, Atlas says in the statement.
Atlas Air's subsidiaries provides freighter service for Seattle-based online retail giant Amazon and DHL, as well as passenger and cargo services for the US military.