New Zealand has suspended its 'travel bubble' arrangement with Australia for three days, after the latter reported a surge in coronavirus infections in multiple states.
The suspension, which forces Air New Zealand to cancel all flights between the two countries until 29 June, has also led the New Zealand government to consider imposing pre-departure testing for all passengers from Australia.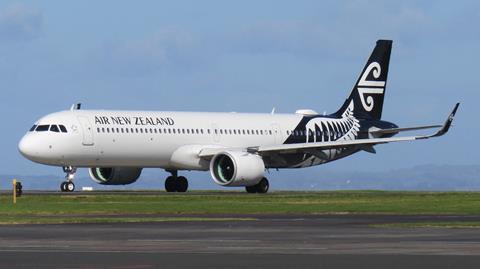 At a 27 June media conference, New Zealand's Covid-19 response minister Chris Hipkins says the pause — which began on the evening of 26 June and will lift from midnight 30 June — "will give us time to look at whether we need to impose additional measures, as well as giving us time to further understand the situation in Australia and monitor their testing and contact tracing efforts".
Hipkins adds: "The current situation with cases in Australia is the worst that it's been since the bubble started and, in fact, the worst that it's been for quite some time."
Greater Sydney and parts of New South Wales state were placed on lockdown for two weeks since 26 June after a spike in coronavirus cases. As at 28 June, the number of locally-transmitted cases from the current outbreak stands at 130, and is expected to grow.
Likewise, Darwin and its surrounds have been put on a 48-hour lockdown from 27 June, after an uptick in cases.
Other Australian states have tightened domestic border restrictions, and are mandating mask wearing and limiting the size of group gatherings.
While New Zealand has not reported a similar spike in cases, the city of Wellington is under tighter restrictions, after a Sydney man tested positive after spending a weekend in the city.
This is the first time the Trans-Tasman travel bubble has been suspended at a country-to-country level, since its launch in April. Past suspensions have involved only specific Australian states.
Explaining the reason for pausing the travel bubble, Hipkins says: "The last thing that we want to see is that we're having to respond to more cases like the one in Wellington, as we are now."
Apart from suspending its Australian flights temporarily, Air New Zealand will also postpone the launch of two Australian routes — between Auckland and Cairns, as well as Sunshine Coast.
The Star Alliance carrier adds that cargo services between both countries will continue to run as scheduled.
The Trans-Tasman travel bubble is the first – and by far the most successful – such arrangement in the Asia-Pacific region. Other quarantine-free travel arrangements have so far failed to take off. A bubble between Singapore and Hong Kong has been postponed twice, with no new launch date set yet.