As the coronavirus crisis increases panic in Europe and North America, airports across the US are struggling to assist passengers affected by canceled flights as they grapple with the financial effects of the virus on their industry in the coming months.
Airport industry group Airports Council International - North America (ACI) says on 13 March it expects US airports alone to experience a total loss of $5.8 billion in 2020 as a result of the global COVID-19 pandemic.
"Passenger traffic volume at US commercial airports is estimated to decrease by approximately 40% in the March to June period, which translates to about a 29% decrease in the first half of 2020 and 20% for the full year compared to forecasted 2020 levels without COVID-19," ACI says on 13 March. "In absolute terms, in the first half of 2020, total passenger enplanement is anticipated to decrease by 130 million and 190 million for the full year."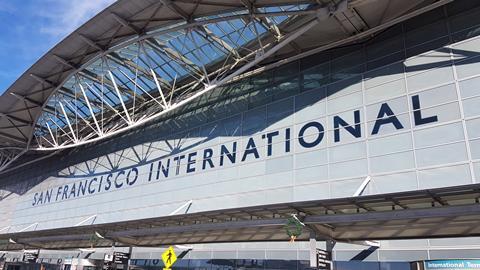 After US president Donald Trump announced expanded restrictions for travellers from Europe earlier this week, it was unclear as to what exactly that meant, and to whom they would apply.
Administration officials later clarified the travel ban would only affect foreign nationals without citizenship or permanent resident status in the US. That effectively shuts down the foreign tourism business from Europe's 26 Schengen Area countries for at least 30 days beginning on 13 March. These include economically powerful and travel-savvy populations in nations such as Germany, the Netherlands, Denmark, France and Switzerland.
The United Kingdom and Ireland are exempt from the list.
At San Francisco International airport, there was initially "some confusion about who the Presidential Proclamation applies to," says spokesman Doug Yokel.
San Francisco, however, remains open and is one of the 13 US "gateway airports" or "approved entry points" to which travelers can return directly from overseas travel. Yokel says the airport has seen a decline in passenger traffic of 25% since the same time last year and some international flights have already been suspended.
"The affected countries amount to about 15% of our international flight schedule and it remains to be seen how much of that gets suspended," Yokel adds
Philadelphia International airport, on the East Coast and closer to Europe, says as of Friday afternoon it has only experienced 11 cancellations.
"Collectively, the 26 countries in the Schengen Area make up only .04% of PHL's passenger volume," airport spokeswoman Flo Brown says. However, from Friday at midnight, Philadelphia will not be able to accept nonstop flights from Europe as it is not on the list of the 13 gateway airports.
The 13 locations where US citizens can directly enter the country are the international airports in the following cities: Atlanta, Boston, Chicago, Dallas/Fort Worth, Detroit, Honolulu, Los Angeles, Miami, New York (John F Kennedy), Newark, San Francisco, Seattle and Washington, DC (Dulles).
American Airlines said on Thursday it is suspending up to 34% of its international capacity, with a 50% capacity decline to Europe during the month of April. Delta said on Friday that it was cutting 40% of capacity and grounding 300 jets, about one third of its fleet.
Airlines have capped one-way fares from Europe since yesterday, in order to prevent price gouging. They are also offering flexible rebooking policies as well as immediate travel credit for use in the future.
Social media users in Europe and across North America have been reporting long lines at information and service kiosks and counters at airports, and hours-long waits on telephone customer service lines.
At German hub Frankfurt International airport, passenger numbers in the first week of March dropped by 30% in the aftermath of the coronavirus outbreak, the airport's operator Fraport said on Thursday.
In Slovakia, Bratislava and two other international airports – Kosice and Poprad – closed to all operations at least for two weeks, in response to the coronavirus situation. The capital airport is served by several carriers including Ryanair, Wizz Air, Pobeda, and Flydubai.