Vietnam has firmed up details of its international border reopening, which will kick off from 15 December, as it calls the move "necessary" in promoting the recovery of its travel sector.
A notice from the Civil Aviation Authority of Vietnam (CAAV) outlines two phases of border reopening, as well as plans to remove quarantine for all fully-vaccinated travellers entering the country.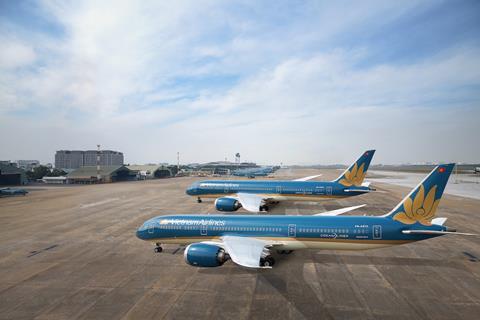 In the first phase of border reopening, the authorities will reopen its border to nine selected cities around the world with "important…political and economic…relations for Vietnam". These cities include Beijing, Tokyo, Singapore, Bangkok, as well as Los Angeles.
The CAAV notes that these cities have "a large number of foreign investments" in the country. At the same time, these cities also have a large number of Vietnamese diaspora, which increases demand for repatriation.
Vietnam's transport ministry has proposed allowing international flights to operate through the country's two key gateways: Hanoi and Ho Chi Minh City, with airlines allowed to operate up to four weekly flights. It estimates about 14,000 visitors per week under the first phase.
In the second phase, expected to launch in January 2022, or one month after the first phase is rolled out, Vietnam will expand the list of cities to include places such as Kuala Lumpur, Moscow, as well as Frankfurt.
"These…markets are also important cooperation partners with many economic…activities, cultural exchanges, tourism with Vietnam, as well as a large number of Vietnamese workers and international students living, studying and working," states the CAAV.
In the second phase, more Vietnamese airports — including Da Nang and Phu Quoc — will be permitted to receive these scheduled international flights.
The CAAV will also allow airlines to operate seven flights a week per route, and expects more than 40,000 visitors per week.
Neither the CAAV nor the transport ministry disclosed plans for reopening beyond January, except to say that the authorities will "review and assess" the situation before restoring operations to pre-pandemic levels.
The simplified phased reopening comes a month after the CAAV put forward a four-stage proposal to the transport ministry, with a target of full reopening by July 2022. Vietnam imposed strict border controls since the start of the pandemic to keep out the coronavirus, and most recently battled a lethal surge of infections, caused by the Delta variant.
Separately, Vietnam's transport ministry is also mulling plans to remove quarantine for fully-vaccinated travellers, which it says will help "ensure the feasibility of resuming regular international flights". Instead of quarantine, the ministry suggests pre-departure and post-arrival testing.
Vietnam's foreign affairs ministry is also in negotiations with countries and territories over the mutual recognition of vaccine passports.