Vietnam will allow airlines to increase flight frequencies on major domestic routes through end-November, as the country eyes restoring regular flights with Singapore.
The Civil Aviation Authority of Vietnam (CAAV), in a 21 October notice, says the frequency increase will apply to three routes — Ho Chi Minh City-Hanoi, Hanoi-Da Nang, as well as Ho Chi Minh City-Da Nang.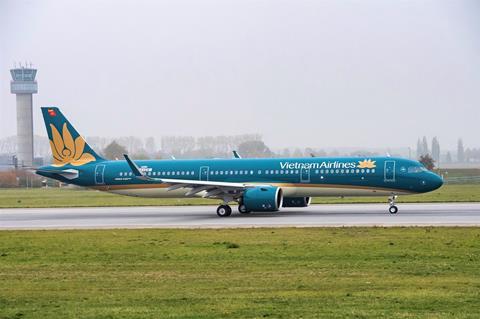 From 21 October to 14 November, the CAAV will allow up to six flights a day, with an additional daily flight allowed from 15 November until the end of the month.
The authority did not disclose how flight frequencies would be distributed among domestic carriers, which include flag carrier Vietnam Airlines, low-cost carrier VietJet Air, as well as privately-owned Bamboo Airways.
As for other domestic routes, the CAAV maintains its previous guidelines which stipulate that each carrier only be allocated one daily flight per way, per route.
Passengers travelling on domestic flights have to be fully-vaccinated, or be certified to have fully recovered from a coronavirus infection, or be tested negative up to 72 hours before travelling.
The capacity upgauge comes two weeks after the country allowed domestic flights to resume, following a particularly severe wave of coronavirus infections.
Separately, Vietnam has agreed to work with Singapore towards reopening commercial flights between both countries.
This comes after Singapore's ambassador to Vietnam Jaya Ratnam held a meeting with Vietnam transport minister Nguyen Van The, where Ratnam conveyed Singapore's intentions to "quickly reopen travel between the two countries".
"The two parties agreed to actively work with relevant agencies of the two countries to reach an agreement on the recognition of vaccine passports, passenger conditions, [in] preparation for the reopening of travel in the near future," says a notice issued after the meeting.
While Vietnam's international borders still remain shut to travellers, Singapore has in recent months gradually reopened to a number of countries — most of them in Europe and North America.
In Asia, Singapore currently allows fully-vaccinated travellers from South Korea and Brunei to enter without quarantine.