Vietnam's air transport sector expects a full recovery in passenger traffic by the end of the year, though it warns of continued challenges including a tepid return of demand from Mainland China travellers.
In a 9 February statement, the Civil Aviation Authority of Vietnam (CAAV) is forecasting passenger numbers to be around 80 million this year, about the same as 2019 volumes.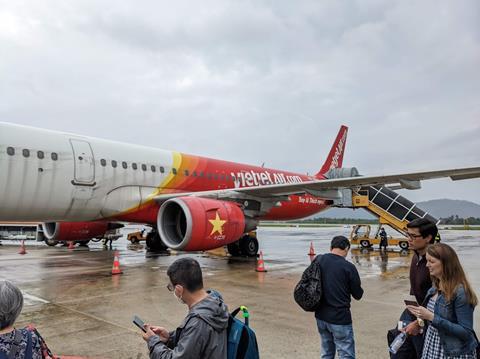 The authority notes that domestic passenger traffic in 2022 has already fully recovered to pre-pandemic 2019 levels, and is expected to significantly exceed it this year.
It is forecasting more than 45 million domestic passengers this year, a 22% jump against 2019, and 5% higher than 2022.
As for international traffic, the CAAV acknowledges that recovery will be far slower: it expects about 34 million passengers in 2023, a three-fold increase year on year, but still falling short of a full recovery at 84% of 2019 passenger volumes.
The CAAV notes that "major challenges" still remain, including "limited" airport infrastructure, fluctuating fuel prices, as well as a shortage of manpower.
It also flags that China-Vietnam travel has been slow to pick up, despite Beijing eliminating most of its 'zero-Covid' restrictions early in the year.