The Civil Aviation Authority of Vietnam (CAAV) is proposing to allow the Boeing 737 Max transit through the country's airspace, paving the way for a possible lifting of the aircraft's grounding.
The CAAV disclosed on 9 March that it has submitted its petition to the country's National Traffic Safety Commission, after reviewing "corrective" efforts by Boeing to recertify the type, as well as the assessment from other aviation authorities around the world, such as those in the US and the European Union.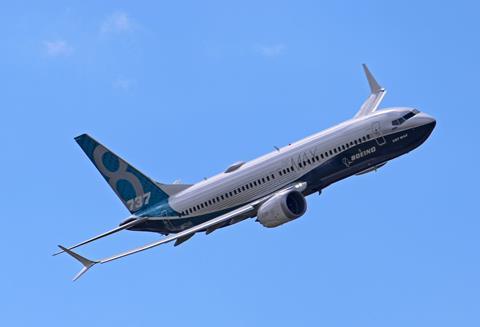 The 737 Max remains grounded in Vietnam, as with most parts of Asia-Pacific, following two fatal crashes in 2018 and 2019.
While no Vietnamese operators currently operate the type, low-cost carrier VietJet has a significant 737 Max orderbook — Cirium fleets data shows it has 200 examples on order.
The CAAV adds that it is in communication with the aviation authorities in Russia and China on the lifting of the 737 Max's grounding. Both countries have yet to do so, with China stating in early March that it was yet to be satisfied with efforts taken to restore the type's service.
Once both countries have lifted their respective grounding, the CAAV will propose allowing the Max to operate into Vietnam, effectively lifting the ban on 737 Max operations.
The authority, which is also working to allow imports of the 737 Max into Vietnam, says the process could take between six months and a year.
Vietnam's announcement follows Australia's move to lift the ban on 737 Max flights, first announced in late-February.