The Civil Aviation Authority of Vietnam (CAAV) is proposing to lift the operational ban on the Boeing 737 Max, and expects China and Indonesia — two key markets in Asia-Pacific where the type is still grounded — to do the same by end-September.
In a 20 September notice, the CAAV says it has written in to the country's transport ministry to allow it to "carry out the necessary procedures" to recertify the type. The agency did not provide any timeline.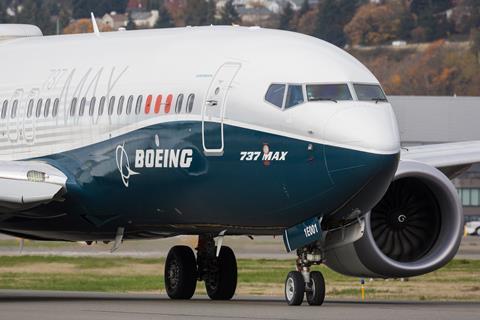 Vietnam in April allowed overflight of the 737 Max, a month after the CAAV first submitted a proposal to the government.
While no Vietnamese operators currently operate the type, low-cost carrier VietJet has a significant 737 Max orderbook — Cirium fleets data shows it has 200 examples on order.
In its latest announcement, the CAAV says it is continuing to work with Boeing representatives to get the aircraft back into operation. It notes the evaluations carried out by safety regulators in other regions, as well as the operational performance of the type since its return to service.
If Vietnam lifts the grounding of the 737 Max, it will be the third Southeast Asian nation, after Malaysia and Singapore, to do so.
It will also be the seventh country in Asia-Pacific to allow the 737 Max to return to service, after countries such as Australia, which was the first to lift the operational ban, New Zealand, as well as India.
The CAAV also states that China and Indonesia are "expected to lift the ban this September", but did not elaborate. China was the first in the world to ground the 737 Max, following two fatal crashes in 2018 and 2019. Indonesia, meanwhile, is home to major 737 Max operator Lion Air. In 2018, a Lion Air 737 Max 8 crashed shortly after taking off from Jakarta, killing all 189 passengers and crew.