Vietnam is set to crack open its tightly shut international borders, with the first international arrivals starting as early as the end of the year.
The Civil Aviation Authority of Vietnam (CAAV) on 4 November says it has put forward the four-stage proposal on border reopening to Vietnam's transport ministry.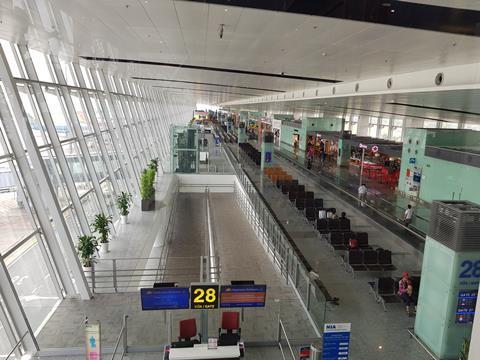 Vietnam imposed strict border controls since the start of the pandemic to keep out the coronavirus, and most recently battled a lethal surge of infections, caused by the Delta variant.
Under the first phase of reopening, which is likely to kick in by year-end, the CAAV is proposing to allow airlines to operate charter flights for the repatriation of Vietnamese citizens, as well as for government-approved trips to selected tourist destinations.
The CAAV lists at least 10 countries under this first phase, including Singapore, Thailand, Japan, Korea, Australia, as well as Russia.
As for Vietnamese airports approved to receive international arrivals, the authority has omitted the key international gateways of Ho Chi Minh City and Hanoi. Instead, it proposes cities such as Da Nang, Cam Ranh, as well as Van Don, for repatriations.
For the tourism pilot, the CAAV suggests cities such as Da Nang, Khanh Hoa, as well as Phu Quoc, with flights limited to just once a day for the first month of roll-out, before ramping up to twice a day from the second month. Travellers on this scheme must be fully-vaccinated, adds the authority.
In Phase 2 of reopening, the CAAV will further ease border restrictions, allowing airlines to operate scheduled passenger flights from January 2022, though it will restrict the number of flights to just four times a week.
The 15 countries listed include China, Japan, Singapore, France, Australia, as well as Germany. Under this phase, the CAAV has allowed airports in Hanoi and Ho Chi Minh City to receive international flights, alongside five other cities including Da Nang and Can Tho.
However, passengers will be required to serve a seven or 14-day quarantine at a designated facility, notes the CAAV.
Vietnam will do away with the mandatory quarantine under the third phase of reopening, which the CAAV says is "dependant on vaccination progress…and assessment of herd immunity" in the country.
Under this stage, which the CAAV targets will take place in April, airlines will be allowed to operate more flights — up to seven flights a week — into the country, and all passengers will have to be fully-vaccinated.
Finally, in the fourth phase, which could take place in July 2022, the CAAV will do away with frequency and capacity limits for airlines.
Vietnam's plans to reopen borders comes as its neighbours in South-east Asia — including Malaysia, Thailand and Singapore — also begin opening up to foreign arrivals, after staying shut for most of the pandemic.