Vietnam will allow domestic flights from a number of cities to resume from 10 October, easing restrictions put in place months ago amid a particularly lethal wave of coronavirus infections.
The move follows a consultation of Vietnam's 20 provinces and cities on reopening plans. According to a 6 October notice from the Civil Aviation Authority of Vietnam (CAAV), 13 provinces and cities — including Ho Chi Minh City — have agreed to reopening, citing the need to boost the local economy.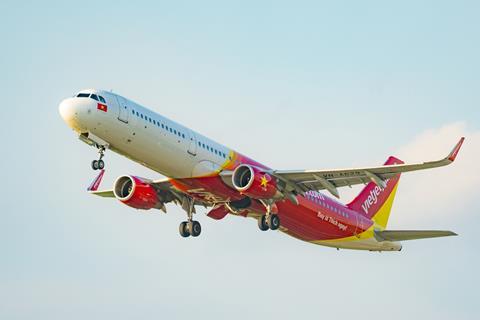 Vietnamese media reports state that capital city Hanoi is among the three cities and provinces that agreed to reopening, but at a later date.
To this end, the CAAV has allowed Vietnamese carriers to operate flights on 10 domestic routes from 10 October, a large number of them from Ho Chi Minh City. Each carrier — Vietnam Airlines, VietJet, Pacific Airlines, as well as Bamboo Airlines — will be allocated one daily flight on some of these routes.
The CAAV states that flight routes to other provinces and cities can only commence with the agreement of the local government, and must not exceed the approved frequency of one flight a day per airline.
All passengers travelling on domestic flights will be exempt from quarantine upon arrival, but must be fully-vaccinated before flying.
Those flying from high-risk zones within the country — including Ho Chi Minh City, the epicentre of Vietnam's worst outbreak — must also present a negative coronavirus test within 72 hours before departing.
These passengers would also have to take post-arrival tests, adds the CAAV.
Vietnam in late-September extended the ban of domestic ticket sales, citing the need to draft pandemic management plans for transport operators.
In mid-September, the CAAV outlined a three-stage plan to restore domestic traffic, which mainly involves capacity limits.