Virgin Atlantic Airways is gearing up for a milestone transatlantic flight later this year that will be powered by 100% sustainable aviation fuel (SAF) under a UK government-funded initiative.
To be operated between London Heathrow and New York JFK airports at some point in the fourth quarter, the sortie will be conducted using a Rolls-Royce Trent 1000-engined Boeing 787-9.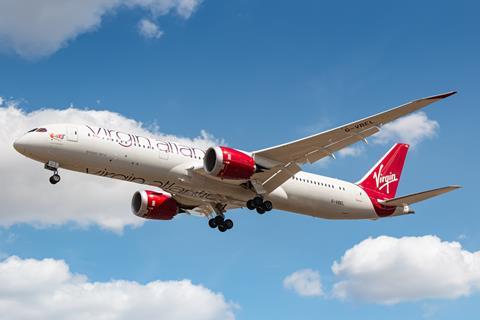 Luke Ervine, Virgin Atlantic's head of sustainability, says the long-haul carrier has already selected the two sources of SAF that will be blended together to "create an absolutely drop-in solution".
He says that approach was necessary to make sure "no modifications to the aircraft" are needed – a vital step that will also aid a future roll-out of the fuel.
"The industry needs a drop-in solution so we don't have to change any of the infrastructure," he says.
Ahead of the flight, Virgin and Rolls-Royce will conduct ground tests of a Trent 1000 at the latter's Derby facility to ensure full compatibility with the SAF blend.
"That process, and all our technical reviews with Boeing and Rolls-Royce will really help to identify if there is anything additional to test," says Ervine.
Additional pre-flight challenges revolve around the transport and storage of the fuel at Heathrow and JFK, alongside the return-to-service plan after the event.
Virgin is also working with air navigation service providers on both sides of the Atlantic as it also looks to realise efficiency gains during the demonstration.
Other project partners include Imperial College London, the University of Sheffield, environmental consultancy ICF and carbon specialist RMI.
By 2030, Virgin aims for 10% of its fuel to be SAF, in line with UK government mandates.
In the meantime, the carrier sees continued fuel-burn improvements from its "fleet transformation", says Ervine.
"It is delivering huge gains in terms of CO2 reduction. By 2027 we will have a 100% new-generation fleet," he says.

Dominic Perry is deputy editor of Flight International but also contributes extensively to flightglobal.com. Although specialising in the coverage of the helicopter industry, he has written on most topics in aerospace – be they commercial, defence or business aviation. In addition, there has been an increasing focus on the decarbonisation of the industry and zero-emission flight initiatives.
View full Profile