Airbus' innovation arm Acubed has started flights in California to advance autonomous technology that will make the next clean-sheet narrowbody aircraft capable of single-pilot operation.
"We certainly believe that the next generation of single-aisle aircraft will be single-pilot capable," Acubed chief executive Mark Cousin tells FlightGlobal.
He notes any single-pilot commercial aircraft will need advanced autonomous systems capable of taking over and landing should the pilot become incapacitated.
Toward that end, Acubed on 28 July completed the first flight test of a Beechcraft Baron, part of a flight programme the company is using to advance autonomous systems. Flights are being conducted from Palo Alto.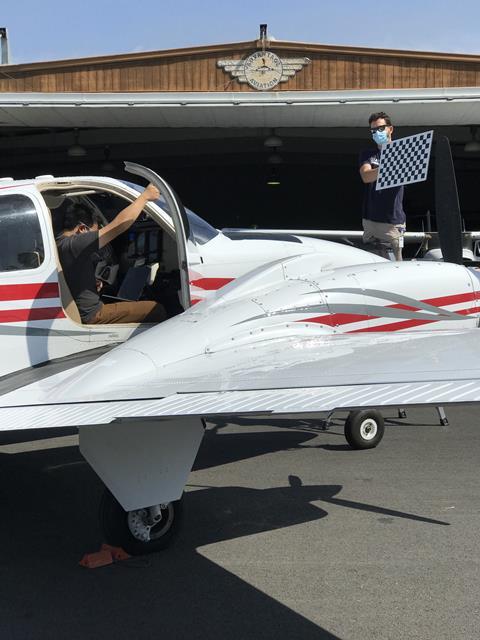 "This is really long-term preparation for… this technology to be mature enough to be integrated into the development of the next-generation of single-aisle aircraft," he adds.
The Baron's mission: evaluate various cameras and collect image data. Airbus needs vast amounts of data to feed into its autonomous technology, says Cousin. Acubed is not flying the Baron autonomously.
Within a year, Airbus could begin equipping its large flight-test jets with the image-gathering technology, and Airbus will explore working with airlines so that in-service jets can collect data.
The company must install the technology on "an appropriate number of aircraft, to collect a wide-enough database… that we can train our machine learning", Cousin says.
Only then will Airbus be "confident that, by the time we launch our next-generation [aircraft], we already have a robust system."
Airbus chief executive Guillaume Faury has said the European airframer may launch an A320 replacement programme in the second half of this decade, with entry into service in the early 2030s.
Boeing, which has also been working on autonomy, is expected to likewise launch a 737 replacement in the coming years.
The impact of the current industry downturn on the airframers plans remains unknown.
Steven Udvar-Hazy, executive chair of top Airbus customer Air Lease, called during the 2019 Paris air show for airframers to make their next models single-pilot capable.
Cousin notes that the next narrowbody jets, while likely capable of single-pilot flight, may enter service with two pilots. Other challenges – such as those related to regulations, labour and air traffic control technology – must be addressed.
"It's an Acubed flight-test lab," Cousin says of the Baron programme, which is part of Acubed's Project Wayfinder autonomous-technology development effort. "We intend to be flying… a couple of times a week over the next three to six months."
The Baron flights follow the June conclusion by Airbus of its Autonomous Taxi, Take-off and Landing (ATTOL) programme, run from Toulouse. As part of ATTOL, Airbus used an A350 and completed some 500 flights. It performed autonomous taxi, take-off and landing using technology consisting of "fully automatic vision-based" systems and "on-board image recognition", according to Airbus.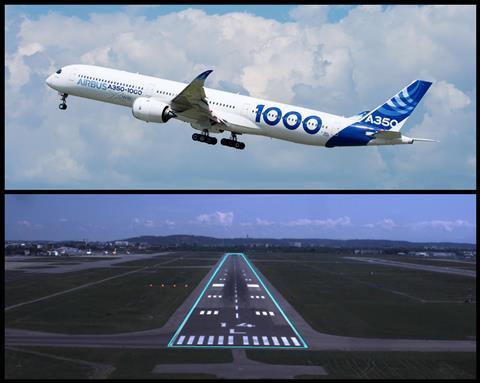 Sunnyvale, California-based Acubed, formed by Airbus in 2015 to secure a presence in the tech- and innovation-centric Silicon Valley, is now advancing that work. Cousin formerly was Airbus head of flight demonstrators and technical director for its Beluga XL programme.
Airbus's autonomous technology employs a "deep neural network" that can "learn" from image data in a way modelled after the workings of the human brain, according to Airbus.
The system can "see" the surrounding world, including runways, "make tactical decisions" and perform visual approaches, says Airbus.
To make it work, Airbus needs lots and lots of currently unavailable image data.
"The big challenge for a robust autonomous landing system is going to be data collection," Cousin says. "You have to train a machine-learning algorithm."
That's where the Baron comes in.
Acubed has outfitted that twin-piston-powered aircraft with systems similar to those carried on the A350 demonstrator. In addition to collecting data, Airbus will use the Baron to evaluate the types of data required and to test cameras and sensors with varying fields of view and resolutions, Cousin says.
"We are basically using [the Baron] as a flight-test platform in which we can do very quick iterations of our data collection system," he adds.
The first flight on 28 July allowed Airbus to test sensors and data collection and processing.
But perfecting automation is only one step in the move toward single-pilot operations. Airframers must also overhaul the "man-machine-interface", making significant changes to cockpits.
Cousin predicts a future pilot shortage will further the need for one-pilot aircraft. The aerospace industry has for years warned of looming shortage, though the current industry downturn seems likely to leave the industry with a temporary pilot surplus.