Supersonic jet developer Aerion remains on track to begin producing its AS2 business jet at a new headquarters in Melbourne, Florida in 2023.
The company, which has been based in Reno, has hired Jacksonville, Florida-based development firm Haskell to lead construction of the new facility, which will sit on 44.5ha (110 acres) at Orlando Melbourne International airport.
"Work on the new park is under way, with major construction work commencing later this year ahead of the first AS2 aircraft flight-test vehicle commencing production in 2023," Aerion said on 25 January.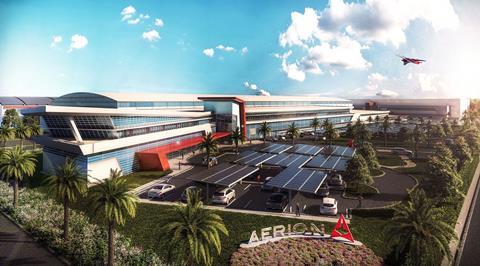 Aerion has already opened a "temporary office" at the airport. "The new state-of-the-art campus will form Aerion's global headquarters and will home production of the AS2 business jet from 2023," the aircraft developer says.
The site will include "an integrated campus for research, design, production and interior completions of the company's AS2 supersonic business jet and future derivative aircraft".
AS2 is an in-development supersonic business jet that the company says will have 4,200nm (7,780km) range at Mach 1.4 and 5,400nm range at M0.95. It will be powered by triple 20,000lb-thrust-class (89kN) GE Aviation engines.
The jet will carry eight to 10 passengers and achieve first flight in 2024 and service entry by 2026..