Texas aircraft lessor Aero Capital Solutions has committed to convert seven Boeing 737-800s into freighters under Aeronautical Engineers' (AEI) supplemental type certificate, with modifications starting in January 2022.
The deal marks another in a string of orders for AEI's 737-800SF and adds to Aero Capital's previous commitments for 14 of the conversions.
Miami-based MRO and aircraft services shop Commercial Jet will perform the seven conversions, the last of which is expected to begin in November 2022, Aero Capital says.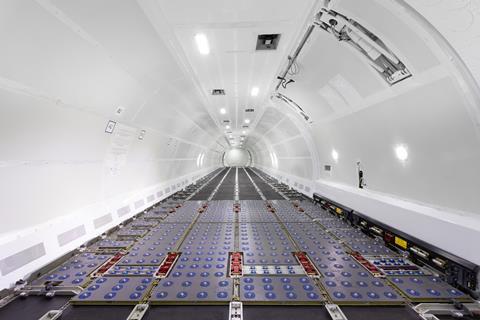 The lessor's chief executive Jason Barany says the order reflects his company's expectation that the recent bump in air cargo demand – which came amid the pandemic – will continue beyond the pandemic.
Aeronautical Engineers' 737-800SFs have a main cargo doors measuring 2.2 x 3.5m (7.2 x 11.4ft). Their main decks can accommodate 11 full-height cargo containers with payloads up to 23,904kg (52,700lb).
The Federal Aviation Administration certificated AEI's 737-800SF converted freighter in February 2019.
Other 737-800SF customers include Nigeria's Allied Air, Bulgaria's CargoAir, Florida aircraft services company GA Telesis and launch customer GE Capital Aviation Services (GECAS).
Operators include Amazon Air, ASL Airlines' divisions in Belgium and France, China Postal Airlines, Ethiopian Airlines, SpiceJet and West Atlantic, Cirium data shows. In March, lessor Macquarie AirFinance ordered four converted 737-800s from AEI.
Story updated on 1 July 2021 to note that Commercial Jet will modify the seven 737s.