Miami-based leasing company Aerolease has signed a letter of intent (LoI) for 50 of Eviation's in-development Alice all-electric commuter aircraft.
"In the four years since the last edition of the Paris air show, Eviation has achieved the world-first test flight of the Alice, and secured over $4 billion in orders," says Gregory Davis Eviation chief executive. It now claims a backlog for over 500 aircraft.
"The leasing community has an important part to play in creating a long-lasting future for our industry, and we are delighted to work with Aerolease," he says.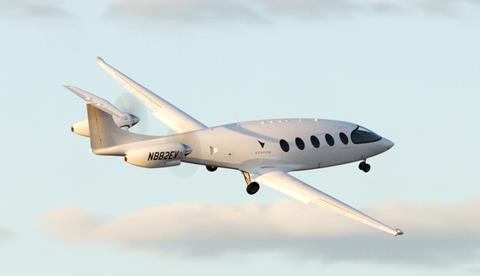 Based in Washington state, Eviation is working to bring Alice through certification, aiming to start certification test flights in 2025 and to deliver the first aircraft later this decade. The initial prototype made an 8min maiden sortie in September 2022 but has not flown since.
Alice is to fly at speeds of up to 260kt (482km/h) and have range of about 250nm (463km) in visual flight conditions, plus an additional 30min reserve. The aircraft is currently powered by twin Magnix 700kW Magni650 motors.
"We work with major airlines around the world, and we know from many conversations that sustainability is a major concern," says Aerolease manging partner Jep Thornton.
"New projects that address sustainability are key to our future strategy and we are excited to be working with Eviation to offer our global customers a zero-emission solution that is good for the planet and provides an exciting means of opening up new regional routes."
He says the two key attractions of the Alice are the Magnix motors and its sustainability: "It looks like a really good project to be involved in."
Eviation has secured purchase commitments for the Alice from customers including Mexican regional airline Aerus, Air New Zealand, Australian's Northern Territory Air Services, Germany's Evia Aero, DHL and US carrier Global Crossing Airlines.
Last month, UK lessor Monte Aircraft Leasing, a spin-off of Montrose Global Aircraft Management, signed a letter of intent covering a potential acquisition of up to 30 Alice airframes.