Aircraft certification specialist AeroTec is selling the Cessna 208B Grand Caravan that it and partner Magnix flew with an all-electric propulsion system in May 2020.
Minnesota-based aircraft broker Wipaire has listed the Caravan (registration N32EL) for $1.5 million. The aircraft again has a Pratt & Whitney Canada PT6 turboprop, not Magnix's Magni500 all-electric system.
"We created the eCaravan together with AeroTec as a flying test bed, as part of our propulsion certification programme," Everett-based Magnix says. "The eCaravan with AeroTec has finished its role."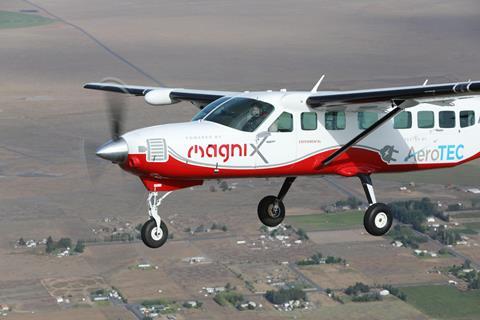 Magnix says it is now moving the Caravan project along, working to certificate an all-electric Caravan via a partnership Australian commuter airline Sydney Seaplanes.
AeroTec, which the Federal Aviation Administration (FAA) lists as the Caravan's owner, did not immediately answer questions about the aircraft's sale.
Wipaire representative Brittnie Brink notes that the Magnix electric propulsion system has been removed, replaced with PT6-114A, which generates 675hp (503kW).
The aircraft has been returned to "normal" configuration from an "experimental" configuration and has undergone detailed inspection per the FAA, she says.
The PT6 has less than 50h since its last hot-section inspection and the aircraft's cabin is outfitted with six executive seats and dual retractable mahogany tables, according to Wipaire.
Seattle-based AeroTec acquired the Caravan in April 2019, according to Cirium fleets data. It then worked with Magnix to replace the PT6 with Magnix's 750hp Magni500 propulsion system.
On 28 May 2020, the companies flew the all-electric "eCaravan" for the first time, from Moses Lake, Washington.
They said the flight proved that small all-electric aircraft can be feasible and economical on short routes.
Magnix says the Caravan effort continues through the Sydney Seaplanes project.
"The recently shared agreement with Sydney Seaplanes will continue the Cessna Caravan [supplemental type certificate] programme from the operators' perspective and will now be similar to the eBeaver programme that is led by an operator."
Magnix partnered on the "eBeaver" programme with Canadian commuter carrier Harbour Air. The companies outfitted one of Harbour's de Havilland Canada DHC-2 Beavers with a Magni500. Harbour flew that all-electric Beaver for the first time on 10 December 2019, and is working toward certification.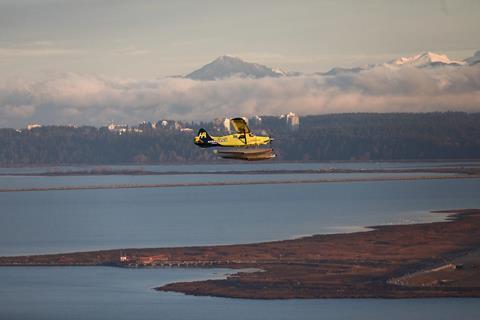 Meanwhile, Magnix says it continues working to certify its propulsion system under US Part 33, which define airworthiness standards for aircraft engines.
That effort will "feed into" both the Beaver and Caravan retrofit programmes, and the certification of new aircraft, such as the all-electric Alice, under development by Eviation, and BEHA, a hybrid-electric design being developed by the UK's Faradair Aerospace.