Air India has agreed to place firm orders for 220 Boeing jets, including 190 737 Max, 20 787s and 10 777Xs.
The US White House disclosed the agreement on 14 January, saying the orders have a list price value of $34 billion.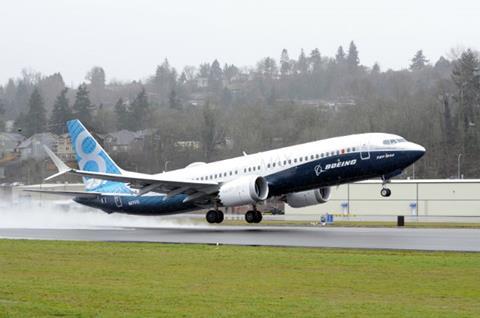 The agreement also grants Air India options to order an additional 50 737 Max and 20 787s, making the deal "Boeing's third-biggest sale of all time in dollar value, and second of all time in quantity", says the White House.
Boeing confirms it has been "selected" by Air India to provide the airline with the aircraft, as detailed by the White House.
The 737 Max orders will include both Max 8s and Max 10s, and the 777X orders will be 777-9s, Boeing adds. The manufacturer is still working to certificate the Max 10 and 777-9.
"When finalised, this will be the largest Boeing order in South Asia and a historic milestone in the aerospace company's nearly 90-year partnership with the carrier," Boeing says.
It will also provide Air India with "life-cycle support services, including digital solutions, spare parts and landing gear exchange programmes, pilot and maintenance technician training, aircraft modifications and other services."
The deal is not yet final, Boeing adds.
"These new airplanes will enable us to dramatically expand our network, both domestically and internationally, and will come with a completely new, world-class onboard product, enabling passengers to travel in the highest levels of comfort and safety," says Air India chief executive Campbell Wilson. "With this order, we are delighted to take our long relationship with Boeing to a new level."
The news comes hours after Air India also said it signed a letter of intent to purchase 250 aircraft from Airbus, including 210 A320neo-family aircraft and 40 A350s.
For months, rumours have swirled that recently reorganised Air India was close to announcing a major aircraft order. Indian conglomerate Tata Group acquired Air India in January 2022.
"Over the course of production and delivery, this agreement will have $70 billion in total economic impact across the United States and support an estimated 1.47 million direct and indirect jobs," says a statement from US President Joe Biden. "The production of this aircraft supports three separate US-based manufacturing lines that include aerospace suppliers across 44 different states."
Story updated on 14 February to include details from Boeing.