Air Lease, one of the world's leading aircraft lessors, has ordered another 32 Boeing 737 Max narrowbodies, bringing its total orderbook for the jets to 130 and handing a important win to Boeing's still-recovering single-aisle programme.
Disclosed by Boeing on 4 April, the deal includes 737 Max 8s and Max 9s, though the airframer does not reveal the order breakdown.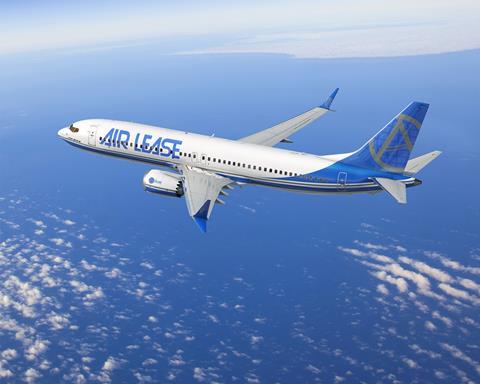 "We believe that the economic and operating advantages of the 737 Max will serve our airline customers well, as they favour modern, fuel-efficient aircraft," says Air Lease chief executive John Plueger.
Air Lease in February signed a memorandum of understanding related to the orders, as well as a separate commitment for 18 737 Max aircraft.
Neither Boeing nor Air Lease says when the latest batch of jets will be delivered. Prior to its orders this year, the lessor intended to receive 33 737 Max in 2022, 31 in 2023, and 35 in 2024, according to the company's most recent financial report. Air Lease did not immediately respond to a request for more details about its delivery timetable.
"With the 737 Max, [Air Lease] customers can choose airplanes that are optimised to suit multiple markets based on range and size, while offering commonality for pilots and crew," Boeing says.
Like many other Boeing customers, Air Lease had cancelled some of its 737 Max orders amid the type's 20-month grounding in 2019 and 2020, and the overlapping pandemic-driven industry downturn. More recently, cancellations have ebbed and some customers, Air Lease included, have added more Max to their orderbooks.
Boeing's 737 backlog stood at 3,497 aircraft at the end of February, up about 260 units from the same point a year earlier, its data shows.