Air taxi developer Eve's transition to a public company left it with hundreds of millions of dollars in funding and long-term engineering support from majority shareholder Embraer.
Eve's executives say such factors position the company favourably to pursue the incredibly difficult and expensive process of achieving certification for a new class of electric aircraft.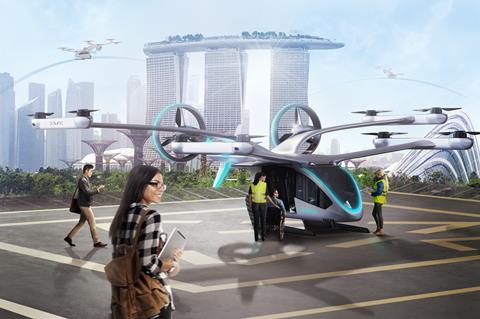 Previously an Embraer subsidiary, Eve completed its go-public bid on 9 May when it merged with publicly traded shell company Zanite Acquisition.
"We came through this with the luxury of an un-leveraged balance sheet and sufficient capital to take us a long way in the certification process," Eve co-chief executive Gerard DeMuro tells FlightGlobal on 10 May.
"We have this incredible backing from Embraer… This incredible knowledge base and infrastructure," he adds.
Eve, based in Melbourne, Florida, is now trading on the New York Stock Exchange.
Through its public offering, Eve secured $357 million in equity funding, including $185 million from Embraer and $147 million from a consortium of investors, among them BAE Systems, Rolls-Royce, Thales and US regional airlines Republic Airways and SkyWest, according to Eve.
Embraer holds 90% of Eve's stock following the transaction, it says.
Eve is developing an electric vertical take-off and landing (eVTOL) air taxi that will carry four passengers and have 54nm (100km) of range, according to documents released by Eve.
It aims to have the aircraft in service by 2026.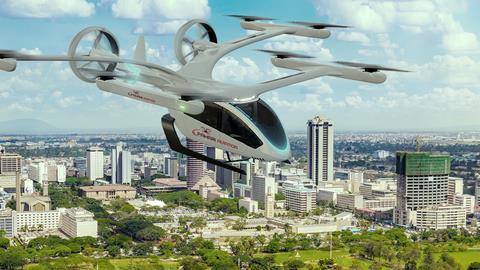 Eve says it has secured "non-binding letters of intent" from 19 customers to order a combined 1,825 air taxis. Those customers include Republic and SkyWest.
Eve has flown sub-scale models of its aircraft but not an actual demonstrator.
"We are not rushing to fly a prototype," says DeMuro. First, he says, Eve wants to ensure the maturity of aircraft systems and settle certification details.
Eve and competing start-ups foresee a future in which small air taxis will shuttle paying passengers on short-distance trips over large congested cities.
Eve and other players in the so-called Urban Air Mobility market predict that when their air taxi systems are fully developed, fares will be comparable to those of ground-based ride-share services.
But the business model and technology remains largely unproven, as does acceptance of the concept by the public and local governments.
Analysts have raised doubt about the viability of such projects. Richard Aboulafia with AeroDynamic Advisory has questioned whether the firms will secure enough orders to justify mass production –which he says they must achieve to bring down per-unit sales prices.
Air taxi developers also face an uncertain road to certification. Companies had been working to achieve certification under Federal Aviation Administration Part 23 rules for small aircraft.
But in recent days the FAA revealed a shift, saying instead it will certificate eVTOLs under a "special class" process, to "address the many novel features" of such aircraft.
The FAA says it does not expect the change will delay certification timelines.
Eve co-CEO André Duarte Stein downplays the FAA's shift but declines to comment on its potential impact.
He calls the FAA's new roadmap "slightly different than what the FAA was looking at before", noting that every certification project faces unique challenges.
"The expectation always was that they would evolve over time as all the parties learned more about this class of aircraft," Stein says of certification regulations. "The regulatory environment… will evolve more."
He adds that Embraer's timeline, being several years behind some other air taxi developers, leaves it more time to adapt to evolving regulations.
Stein also calls attention to what he describes as Eve's wildcard – engineering and certification support from Embraer.
Eve holds agreements giving it access to Embraer resources on a "priority basis", he says.
"We are buying development services from" Embraer, Stein adds. "To have the backing of someone that has developed and certified aircraft helps a lot."