Airbus and Boeing are still sitting on large fleets of produced but undelivered commercial jets, reflecting the continued slow pace of aircraft hand-offs amid what could be called the aerospace industry's most-severe downturn.
On 1 October, the companies held 622 jets that have completed first-flight but have not been delivered, according to Cirium fleets data.
The figure is down slightly from July, when a FlightGlobal analysis tallied 628 undelivered Airbus and Boeing jets.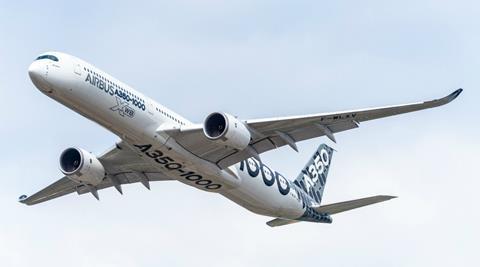 Boeing's 423-strong fleet of stockpiled 737 Max significantly inflate the tally. Boeing stockpiled 737 Max in 2019 when it continued producing the jets amid the regulatory grounding, which prohibited Boeing from delivering the aircraft.
Excluding the Max, the airframers hold 199 produced-but-not-delivered commercial aircraft – a six fewer than at the end of July.
Airbus's inventory stood at 144 aircraft on 1 October, down from 166 at the end July. The European manufacturer's undelivered fleet includes 10 A220s, 89 A320-family jets, 14 A330s, 26 A350s and five A380s, according to Cirium.
Produced, undelivered jets as of 1 Oct.
Cirium fleets data
A220s
10
A320s
89
A330s
14
A350s
26
A380s
5
Airbus total
144
737 Max
423
747-8s
2
767-300s
1
777s
8
787s
44
Boeing total
478
Total, both manufacturers
622
Boeing's undelivered fleet on 1 October stood at 478 aircraft, up from 462 in July.
The jump largely reflects more undelivered 787s. Boeing held 44 of those jets on 1 October, up from 31 several months ago.
The Chicago airframer also has the 423 737 Max, two 747-8 Freighters, one 767-300F and eight 777s, Cirium data shows.
Historically, aircraft production rates have closely mirrored delivery rates, making the figures nearly synonymous, according to Alex Krutz, managing director at aerospace and defence advisory Patriot Industrial Partners.
But the coronavirus-driven industry downturn has soured demand for new jets. Additionally, manufacturers have said travel restrictions have hindered their ability to hand off new aircraft.
In August, Airbus delivered 39 jets and Boeing handed over 13, according to the manufacturers' most-recent figures.