Airbus has started operating the first of the six BelugaXL high-capacity transports it is building to facilitate production ramp-up.
The A330-based aircraft completed its first operational flight on 9 January, says the airframer.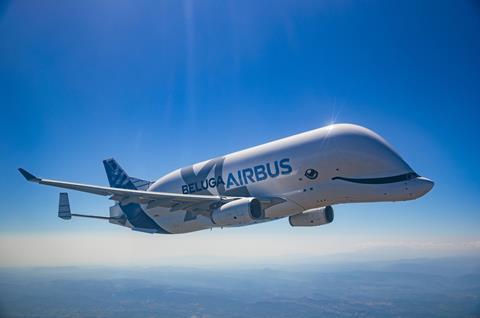 EASA certification was secured in November 2019, following a test campaign of more than 700h across some 200 flights since the first in July 2018.
All six BelugaXL freighters will be operating by the end of 2023, Airbus indicates.
The Rolls-Royce Trent 700-powered aircraft – formally named A330-700L – has been developed to replace Airbus's in-service fleet of five A300-600ST Belugas and provides around 30% more capacity than its predecessor.
"The BelugaXL has the largest cargo bay cross-section of all existing cargo aircraft," Airbus notes. While an A300-600ST can transport one A350 wing, the new freighter has space for two.
Like its predecessor, the BelugaXL will be deployed to transport components between 11 European sites.
The A300-600STs will be phased out from 2021.