Airbus has formed a new French aerostructures business called Airbus Atlantic as part of the airframer's previously disclosed plan to reorganise its structures-manufacturing operations.
Established on 1 January, Airbus Atlantic encompasses global operations of Airbus subsidiary Stelia Aerospace and of Airbus-managed French aerostructures operations in Nantes and Montoir-de-Bretagne, which is near Saint-Nazaire, the European airframer says on 3 January.
Airbus, in April 2021, disclosed its intention to consolidate its aerostructures operations into two companies – one in France and one in Germany. Airbus Atlantic is the new French operation.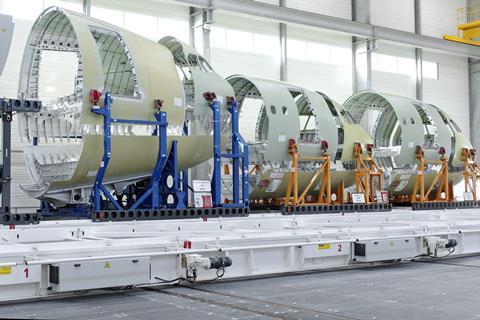 "This unification is part of the transformation project announced in April 2021, aimed at strengthening the value chain of aerostructure assembly within Airbus' industrial setup," Airbus says. "Airbus Atlantic will be an essential element in the group's value chain and will play a key role with regard to the aerostructure supply chain."
Airbus Atlantic employs about 13,000 workers in five countries and has annual revenue of some €3.5 billion ($4 billion). Outside of France, it has operations in Casablanca, Tunis, Canada (Mirabel, Saint-Laurent and Lunenburg) and Santo Tirso in Portugal.
Airbus Atlantic's Stelia business manufactures a range of aircraft structures and produces aircraft pipes, ducts and seats. Facilities in the Saint-Nazaire region assemble A320 forward fuselage sections and A330 forward and centre sections, according to Airbus. The Nantes operation produces centre wing boxes for all Airbus jetliners and components including air inlets, radomes and ailerons.
Airbus has said the new German entity will combine its operations in Stade and Hamburg with Airbus-subsidiary Premium Aerotec's operations Nordenham, Bremen and Augsburg. Airbus assembles A320s in Hamburg – its German headquarters – and produces vertical stabilisers and carbon fibre reinforced plastics in Stade. The Premium Aerotec division produces fuselage sections, bulkheads and components for doors, floors and landing gears.
Airbus has not disclosed more details about the new German company.
In disclosing the changes last year, Airbus said the new companies "would no longer be suppliers to Airbus" but would instead be integrated into the aircraft maker. Airbus said the changes would simplify governance and make the aerostructures divisions leaner and more competitive.
Additionally, Airbus said it will create a new parts business out of Premium Aerotec's parts operation.
The changes come as a reversal for Airbus, which more than a decade ago had separated its aerostructures businesses into various units and had left open the possibility of divesting those businesses.