Airbus has delivered the first US-built A220, handing over an A220-300 to Atlanta-based Delta Air Lines.
The milestone, announced by Airbus on 22 October, comes 14 months after the company began manufacturing the type at the Alabama site where it also produces A320s.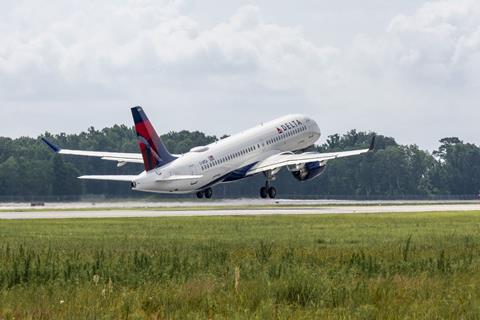 Airbus Americas chief executive Jeffrey Knittel calls the delivery a "historic moment that highlights Airbus' growing industrial footprint in North America".
In July 2018, Airbus acquired the A220 programme (then called the CSeries programme) from Bombardier.
Airbus quickly moved forward with a plan to open a second A220 production facility in Mobile. The airframer also makes A220s at a primary manufacturing site in Mirabel, Quebec.
Airbus began construction of the new A220 facility in Mobile in January 2019, and started producing A220s there in August 2019. The first Mobile-built A220 flew in June.
Airbus says it has trained some 400 US employees to work on A220s.
Delta has ordered 95 A220s, more than any other airline. It has 22 of the jets in service, nine in storage and another 64 on order, plus options for a further 50, according to the most-recent Cirium fleets data.
As of the end of September, Airbus had delivered 123 A220s globally and had another 516 on order.