On display at this week's FIDAE International Air and Space Fair in Santiago, Chile is an airframe that looks somewhat out of place.
FIDAE, the largest airshow in Latin America, traditionally showcases defence and security aircraft, decked out in drab camouflage and laden with war-fighting technology.
But parked on the apron amid the military wares is a shiny new Airbus A220-300 in Swiss International Airlines' distinctive white-and-red livery, gleaming bright in the sun.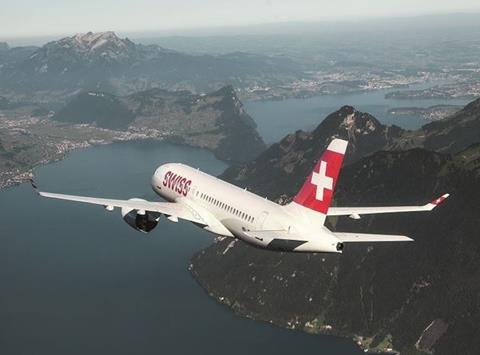 The aircraft, along with a host of Airbus personnel, is on a three-week, five-country whistle-stop tour of South America. The Toulouse-based airframer hopes to make a splash with its newest single-aisle in the fastest-growing aviation market in the world. It's giving the region's airline executives personal tours and conducting demonstration flights to show off the jet's features and capabilities.
"2020 was a shock to the system," says Airbus Latin America chief Arturo Barreira. "It was grim. But we noticed that the Latin American market bounced back faster. Mexico was at the top of recovering countries in 2020, and in 2021 we saw airlines starting to grow again."
In 2021, Airbus delivered 37 aircraft in the region and logged orders for 92. Those figures were "well above initial forecasts", Barreira says.
But despite the A220's success elsewhere, Airbus has not yet notched a single order for the aircraft in Latin America. Barreira is convinced that will change soon.
"The Latin American market is very single-aisle-driven and we think we have good opportunities with our new baby single-aisle," he says. "We see that there has been a lot of up-gauging in 2021. So [airlines are] looking at reducing unit cost."
About 56% of the in-service fleet in Latin America is Airbus aircraft.
Airbus claims A220s, powered by Pratt & Whitney PW1500G geared turbofans, burn 25% less than previous-generation aircraft.
The A220 – the former Bombardier C-Series, which Airbus acquired majority ownership of in 2018 – is chock-full of features not found in other narrowbody, he says, so "it has a lot of things to appeal to the customer and the passenger".
"The cabin is amazing. It's got almost-vertical sidewalls, larger windows, the restrooms are large," he says. "On top of that, it was designed from a blank sheet of paper so it has the latest technology in terms of ergonomics, engines and materials."
Indeed, the cabin interior is spacious and gives an impression of a larger aircraft. The cockpit is fully digital, leading some pilots to call it "a mini-A350".
"It's an extremely competitive aircraft… that's the reason why we have been so successful across the world with over 700 aircraft ordered so far," Barreira adds. As of the end of February, Airbus has delivered 199 of the type to 16 airlines, with 541 firm orders in its backlog.
According to Cirium fleets data, JetBlue Airways alone has ordered 100, and Delta Air Lines is slated to get 95. US startup Breeze Airways has 77 A220s on order.
The aircraft is built in Mirabel, Canada, and in Airbus' US facility in Mobile, Alabama.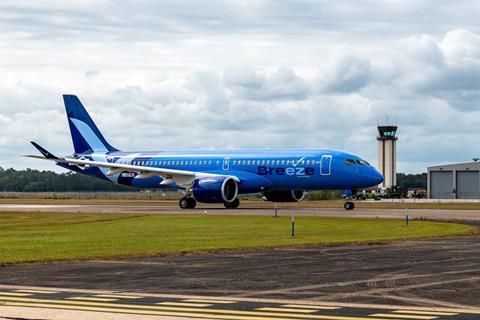 Pilar Wolfsteller, Americas Air Transport Editor, is an FAA-certified flight instructor (CFI), and holds a commercial pilot certificate with instrument rating. She joined FlightGlobal in 2019, and is based in Las Vegas. She covers airlines across the hemisphere and her interests also include future-oriented sustainable aviation technology, advanced air mobility projects and pilot training topics. Pilar began her journalism career at the global news agencies Bloomberg and Reuters, and has reported from more than 50 countries.