Airbus has marked the opening of a new A220 final assembly site in Mobile, Alabama, a move the airframer says doubles its manufacturing presence in the city.
The manufacturer has been producing A220s in Mobile since mid-2019, but has done so in hangars built for producing A320s or conducting maintenance.
Meanwhile, the company has constructed the new A220 facility – a 25,100sq m (270,000sq ft) building that houses five assembly stations. A220s will now be assembled in the new site, though they will visit other hangars for additional work prior to reaching the flightline, Airbus says.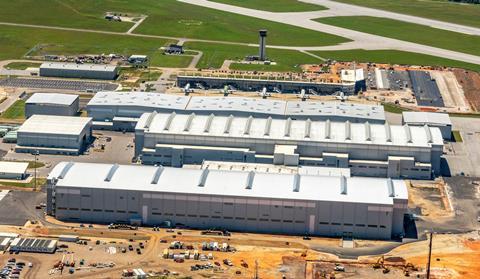 The A220's road to Mobile started several years ago during a trade spat between Boeing and Bombardier over Canadian government support for the then CSeries that threatened to hit the Montreal-built jets with enormous import tariffs.
Bombardier ultimately won the case, but not before Airbus stepped in, agreeing in 2017 to acquire the CSeries from financially troubled Bombardier and to sidestep potential tariffs by opening a CSeries production line in Mobile, where it was already building A320s.
Airbus acquired majority ownership of CSeries in 2019, renamed it A220, and began producing the jets in Mobile that year, with the first aircraft destined for Delta Air Lines.
Airbus has now started work on the first Mobile-made A220 for another US customer, JetBlue Airways, the airframer says; JetBlue has orders for 70 A220s.