Five months after launching its ACJ TwoTwenty executive jet, Airbus Corporate Jets (ACJ) is talking up the performance of its modified A220-100, pitching the type as competitive in two segments of the business aircraft market.
Thanks to range and cabin size, the TwoTwenty appeals to buyers of both "bizliners" – passenger aircraft modified into executive transports – and traditional large-cabin business jets like Bombardier Global 7500s and Gulfstream G700s, say Airbus executives.
"With this product, we are entering a market that is much, much bigger," says Airbus ACJ vice-president of commercial Stan Shparberg . "We are offering a different flying experience."
He notes that while the market for executive-modified passenger jets is somewhat limited, with only about 400 of those aircraft in service, the large-cabin segment is much bigger, with some 2,200 jets flying.
Airbus is playing up the size of the TwoTwenty's cabin, which, at 73sq m (786sq ft), is up to three times larger than cabins of traditional long-range business jets, executives say.
The TwoTwenty costs one-third less to operate than such types, they add.
"We see that the market is asking for more and more space. Even the traditional business jets are trying to increase [their] size," says ACJ president Benoit Defforge.
Aircraft competing with the TwoTwenty surely include Embraer Lineage 1000Es, based on E190 passenger jets, and Boeing Business Jets, based on the 737 Max.
But Airbus executives seem to be particularly targeting large-cabin business jets, saying the TwoTwenty stacks up well against Globals and G700s.
"We are definitely taking some sales from the replacement of those jets," Shparberg says of the large-cabin segment.
In response Bombardier notes that its Global 7500 has "an unmatched combination of range, size, speed and cabin comfort, and is purpose-built for the top-end of business aviation".
The Montreal airframer lists the Global 7500 as having 7,700nm (14,260km) range.
Gulfstream could not be reached for comment. That company aims for its 7,500nm-range G700 to enter service in 2022. Both the Global 7500 and G700 can carry up to 19 passengers and have Mach 0.92 top speed.
Airbus lists the TwoTwenty's range as 5,650nm with 18 passengers. Being a modified airliner, the TwoTwenty cannot fly as fast as purpose-built business jets.
But the TwoTwenty has sufficient range for nearly all missions, say executives, noting that only about 2% of business jet flights exceed the TwoTwenty's ability. They say the TwoTwenty's slightly slower speed adds relatively little time to flights.
"We haven't seen a customer that walks away because the speed has been a concern," says Shparberg.
Airbus declines to disclose the TwoTwenty's selling price, but executives say the cost will compare with types like the Global 7500 and G700.
"We need to be in a position where we are really competitive," Shparberg says.
Airbus launched the TwoTwenty in October 2020, following its 2018 acquisition of the A220 programme from Bombardier. US corporate aircraft specialist Comlux is both the TwoTwenty's launch customer and a major partner, having been chosen by Airbus as the sole completions provider for new TwoTwenty cabins.
"In order to achieve the price we wanted to achieve, we decided to have only one outfitting centre," says Shparberg.
Airbus will offer customers a wide range of cabin options. But to keep costs competitive, the airframer is not offering the same degree of total cabin customisation available to buyers of other ACJs, says Defforge.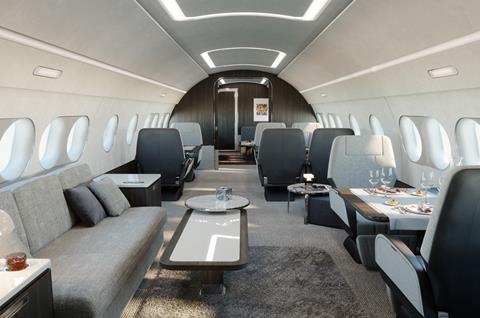 Airbus holds orders for six TwoTwenty jets, including two ordered by Comlux and four destined for unnamed customers. The airframer is on track to begin deliveries in "early 2023", Defforge confirms.
Airbus's Montreal A220 production facility will manufacture the first TwoTwenty, though Airbus might build future jets at its US A220 assembly site in Mobile, Alabama.
Executives do not disclose TwoTwenty sales targets or projected production levels. But Shparberg says Airbus will not churn out TwoTwenty jets as fast as competing business-jet companies that build large-cabin models.
He envisions four types of potential TwoTwenty buyers: owner-operators, charter companies, governments and "premium private flight" operators, which are companies that sell individual seats on business aircraft.
"This premium private flight [segment] seems to be gaining momentum," says Shparberg.
Airbus launched the TwoTwenty amid a pandemic, a factor that might seem to raise questions about sales potential. But Airbus notes that the pandemic's impact on the business-jet industry has been relatively muted compared to the levelling that Covid-19 dished onto airlines.
Also, with TwoTwenty deliveries two years out, the market has time to recover.
"It's a few years ahead… We are investing for the long term," Shparberg says.